Videos Provide Valuable Evidence in Car Accident Claims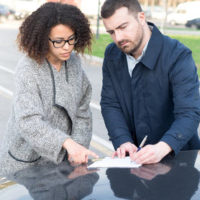 Motor vehicle accidents are complex events. Numerous factors may be involved, which are not immediately apparent and drivers often have conflicting versions of events. When serious injuries result, determining how and why the crash occurred and who is to blame plays a crucial role in getting the compensation you need to cover your medical costs, lost wages, and other expenses. In Bradenton car accidents, videotape recordings are an excellent source of information and details about the collision for investigations, insurance adjusters, and your attorney, providing the valuable evidence needed to support your claim.
Videotape Incriminates Driver in Bradenton Motorcycle Collision
In a collision involving a motorcycle and a Ford truck which occurred in Bradenton in early January 2019, videotape evidence helped to show how the truck driver was at fault. According to a report in the Bradenton Herald, 28-year-old Mlak "Angel" Ramahi had just picked up her motorcycle after having it repaired at Just In Tyme Cycles on 58th Avenue West and was headed home with the bike along 14th Street while her mother followed behind her. As mother and daughter sat stopped in the middle lane of traffic, an unidentified driver of a white Ford F-150 pulled out of the nearby parking lot of the Winn-Dixie, crossed three lanes of traffic, and struck the motorcyclist as she sat in the northbound lane.
Fortunately, Rahami was wearing a motorcycle helmet at the time of the crash and though injured, is expected to eventually make a full recovery.  While numerous witnesses at the accident scene, including the victim's mother, informed local police of the details surrounding the crash, the driver himself tried to claim that he was the victim. His initial statement was that the motorcyclist struck him as he pulled out of the store. However, in addition to witness statements, videotape evidence from a store surveillance system at Just In Tyme Cycles showed that the driver was in fact to blame.
Locating Videotape Evidence in Your Claim
In the aftermath of any type of motor vehicle accident, the more evidence you have the greater the likelihood of proving your claim. Knowing exactly when and where a collision occurred plays an important role in obtaining this evidence. As in the above case, there may be a nearby store, office building, or other property that has video surveillance monitoring, which can show how the accident occurred. There may also be nearby traffic cameras, which may have captured the collision on tape. Through grants from the Florida Department of Transportation, there are more than 200 closed circuit traffic cameras throughout the Sarasota and Bradenton area. In the event of a crash, these videos can be used as important evidence in your claim.
Let Us Help You Today
When motor vehicle accidents leave you with serious injuries, the Law Office of Steven G. Lavely is here to help you hold responsible drivers accountable. Contact our Bradenton car accident attorney today and request a consultation to discuss compensation you may be entitled to in a claim.
Resource:
bradenton.com/news/local/article223915045.html
https://www.lavelylaw.com/driver-fleeing-car-accident-causes-second-crash-that-kills-bradenton-woman/