Tractor Trailer Involved In Major Crash In Bradenton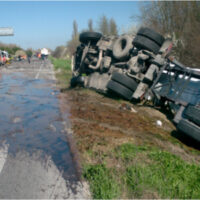 A major car accident in Bradenton recently that involved a tractor trailer left several drivers suffering serious injuries. While police are continuing to investigate the causes, it is important for motorists to be aware of the risks when sharing the road with this type of truck and other big rigs. Following some simple precautions can help to protect you, your passengers, and others on the road.
Bradenton Car Accident Results In Multiple Injuries
According to a December 9, 2020 My SunCoast news report, a major multi-vehicle car accident shut down traffic on State Road 70 in Bradenton on a recent Wednesday afternoon. It happened in the eastbound lanes of the highway, near White Eagle Boulevard. Police have revealed few details in the case, but report that the crash resulted in a tractor-trailer overturn, that two motorists were pinned, and another was ejected from their vehicle as a result of the collision.
Any type of car accident that occurs on major roads where drivers are traveling at high rates of speed has the potential to be dangerous. The risk increases dramatically when any type of truck is involved. As the massive size and bulk of most big rigs serves to protect the truck driver, it is generally other motorists who suffer the greatest harm. In a truck overturn accident, such as in this recent case, or when a jackknife truck accident happens where the trailer swings up alongside the cab, drivers both in front of, behind, and in multiple lanes alongside the truck are likely to be impacted.
Protecting Yourself When Sharing The Road With Truckers
The Federal Motor Carrier Safety Administration (FMCSA) warns that truck accidents claim the lives of more than 5,000 people each year throughout the U.S. while leaving tens of thousands of other drivers and passengers suffering serious personal injuries. Florida has one of the highest truck accident rates in the country and considering the number of major roads and interstates passing by or near Bradenton, residents in our area are at an increased risk.
To protect themselves, it is important for drivers to take some safety precautions that can help prevent them from being impacted in the event of a truck crash or collision. This includes:
Be aware of roads truckers frequently travel and their position near you in traffic;
Pay close attention to any reckless behavior the truck driver may be engaged in, such as swerving in and out of lanes or going too fast for conditions;
Avoid tailgating truckers, which could create problems in the event of a crash or sudden stops;
Make sure to allow plenty of room when passing a truck to prevent cutting them off;
Avoid driving alongside truckers, as this causes you to disappear from their view.
Let Us Help You Today
Car accidents involving large trucks are common in our area and can leave you suffering serious injuries. At the Law Office of Steven G. Lavely, we help you get the compensation you need to recover. To request a consultation, contact our Bradenton car accident attorney today.
Resource:
mysuncoast.com/2020/12/09/crash-reported-e-sr-bradenton/
https://www.lavelylaw.com/filing-a-claim-against-the-driver-when-you-are-a-passenger-in-a-car-accident/