Rollover Accidents: How They Happen and How You Can Protect Yourself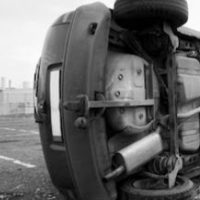 Car accidents caused by a vehicle rollover are one of the least common but most potentially dangerous types of crashes. They commonly occur among trucks, SUVs, and other tall vehicles, and can have major impacts for other drivers on the road. A recent rollover accident highlights the potential dangers. It is important to understand both how these crashes occur and what you can do to protect yourself.
Rollover Accident Blocks Traffic in Manatee County
A recent rollover accident in Manatee County blocked traffic on U.S. 41 for several hours on a recent Friday evening. According to a March 29, 2019 news report by the Bradenton Herald, the crash occurred at approximately 4:30 p.m. during the height of rush hour traffic, in the southbound lanes of the highway near 69th Avenue West. Traffic cameras caught the accident on tape, which will be reviewed by Florida Highway Patrol officials in conducting investigations. Drivers involved in the crash have not been identified, but fortunately no major injuries were reported at the scene.
According to the National Highway Traffic Safety Administration (NHTSA) website SaferCar.gov, rollover crashes are one of the least common types of car accidents. Of the more than nine million motor vehicle accidents that occur each year throughout the U.S., rollovers factor in just over two percent. However, while they may not be as common as other types of collisions, they have the potential to be among the most severe. They are responsible for more than 35 percent of all traffic fatalities, killing close to 8,000 people each year.
Protecting Yourself Against Rollover Accidents 
According to the Insurance Institute for Highway Safety (IIHS), rollover accidents are more likely to happen to SUVs, cargo vans, large trucks, and other types of taller vehicles. They can occur as the result of manufacturer design defects, as well as due to improper loading practices which cause the vehicle to be top heavy or otherwise unbalanced. Drivers of taller vehicles should be sure that any items they are carrying are unevenly distributed in the cargo hold and tightly secured. They should also use caution when taking curves or making turns at side streets or intersections, which are locations where rollover accidents are more likely to occur.
For other motorists on the road, the impacts of a rollover accident can be severe. In addition to blocking traffic for hours on end, it can increase the risk for multi-vehicle pile ups. Steps you can take to protect yourself from being impacted by a rollover crash include:
Avoid following other vehicles too closely;
Give other drivers plenty of space when making turns;
Refrain from driving in other motorist's blind spot;
Wear your seatbelt at all times.

Let Us Help You Today
When rollover accidents impact you or a family member, the Law Office of Steven G. Lavely is here to help you get the compensation you need to recover. To request a consultation, call or contact our Bradenton car accident attorney online today.
Resource:
bradenton.com/news/local/traffic/article228608929.html
https://www.lavelylaw.com/four-reasons-you-need-a-bradenton-trial-lawyer-to-handle-your-car-accident-claim/