Put it Down: Florida's Campaign to Reduce Distracted Driving Accidents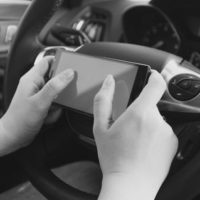 Florida leads the nation when it comes to distracted driving accidents, and law enforcement officials have gotten aggressive in their efforts to raise awareness of the potential dangers. While most people are familiar with the fact that texting or using cellphones behind the wheel makes car accidents and injuries more likely to occur, there are other types of distracted driving behaviors you need to be aware of that could increase your risks.
Florida Texting and Driving
According to the Florida Department of Highway Safety and Motor Vehicles (FLHSMV), distracted driving continues to be an ongoing problem in Florida. In 2016, more than 50,000 accidents were attributed to distracted drivers, which averages to roughly five every hour. These accidents ended up killing more than 230 people, while seriously injuring over 3,500 others. This represents an increase in these types of accidents of close to 30 percent since 2013.
As a way of addressing the problem the Florida Department of Transportation (DOT) initiated the Put It Down campaign. It is targeted at drivers who talk on cell phones, engage in texting, take pictures, or otherwise use electronic devices behind the wheel. The program's main goals are:
To raise awareness of the dangers of distracted driving;
To raise awareness of how it increases car accident injury risks;
To make the public more aware of Florida laws banning texting while driving;
To offer resources that drivers can use to make others more aware.
Through public service campaigns and posts shared via social media, the DOT hopes to spread the word among drivers of all ages. This includes teen drivers, who are the age group most at risk for texting while driving and for suffering fatal car accidents as a result.
Other Types of Distracted Driving Accidents
Contrary to our notions of multitasking, you need all of your faculties when behind the wheel. In terms of paying attention while on the road, the FLHSMV states the following are the three main types of driving distractions:
Visual distractions, which cause you to take your eyes off the road;
Manual distractions, which require you to take your hands off the wheel;
Cognitive distractions, which divert your attention from the task of driving.
Texting is particularly dangerous as it involves all three of the above, but there are numerous other distractions which drivers should avoid. Eating and drinking behind the wheel, talking with passengers, attending to children in the back seat, and changing GPS or radio stations can all divert your attention long enough to make a car accident more likely.
Let Us Help You Today
If you are one of the thousands of people injured by distracted drivers in Florida each year, reach out and contact our Bradenton car accident attorney. At the Law Office of Steven G. Lavely, we provide the professional, experienced legal representation you need to get compensation for your injuries. Call or contact us online and request a one on one consultation today.
Resources:
flhsmv.gov/2017/04/03/save-life-dont-drive-distracted/
leg.state.fl.us/statutes/index.cfm?mode=View%20Statutes&SubMenu=1&App_mode=Display_Statute&Search_String=316.305&URL=0300-0399/0316/Sections/0316.305.html