Protecting Your Child Against Car Accidents In Bradenton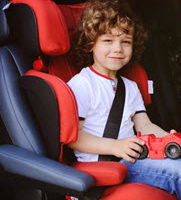 Car accidents in Bradenton can result in serious and potentially life-threatening injuries both for drivers and any passengers involved. This is particularly true in the event that there are children in the vehicle. While car seats and other safety features can help to protect them, they are still among the most vulnerable to injuries. As parents, it is important to be aware both of how to protect your child in a car accident and the steps you can take to reduce their overall risks.
Car Accidents Involving Children
A recent car accident in Manatee County left a child who was a passenger in one of the vehicles with serious personal injuries. According to a December 2020 report by the Bradenton Herald, the accident happened at 2:30 p.m. just north of Palmetto, on U.S. 41 near 35th Street West. An 18-year-old Bradenton woman was traveling southbound when she crossed the grassy median and headed the wrong way in the opposing lane before colliding with another vehicle. Three people were seriously injured in the crash, including a child who is listed in critical condition.
This type of crash is the worst nightmare for every parent. Unfortunately, car accidents involving children occur all too often. The Centers for Disease Control and Prevention (CDC) reports that nearly 100,000 children are seriously injured in crashes each year. If an accident does happen, take these steps:
Report it to the police immediately and remain on the scene until they arrive.
Get the name, contact, and insurance information for the other driver;
Get a copy of the police report.
Seek medical care for your child as soon as possible, even if they have no obvious injuries.
Sadly, children can suffer potentially life-threatening conditions in even minor car accidents and symptoms could take days or even weeks to appear.
Protecting Your Child Against Car Accident Injuries
Protecting children in your vehicle is a top priority for parents. Unfortunately, car accidents often happen due to the reckless actions of others on the road. According to the National Highway Traffic Safety Administration (NHTSA), speeding, running red lights, tailgating other drivers, and driving distracted or under the influence are among the leading causes of collisions. While you cannot control what others do, you can reduce your risks by avoiding these types of behaviors yourself. Other steps to take to protect your child and reduce crash risks include:
Have your vehicle inspected regularly. Maintenance issues and malfunctions are a common contributing factor in collisions.
Make sure you are well-rested before driving. Drowsy driving is another common cause of collisions.
Practice defensive driving skills. Give other motorists plenty of space and refuse to engage with them if they exhibit aggressive behavior.
Pay attention to weather conditions. Foggy conditions and wet roads increase car accident risks.
Let Us Help You Today
At the Law Office of Steven G. Lavely, we help you get the compensation you need to recover when car accidents happen. Call or contact our Bradenton car accident attorney online to request a consultation today.
Resource:
nhtsa.gov/risky-driving
bradenton.com/news/local/traffic/article247942385.html
https://www.lavelylaw.com/protect-yourself-and-your-rights-in-the-event-of-a-car-accident-in-bradenton/