Protecting Children and Teens Against Bike Accidents In Bradenton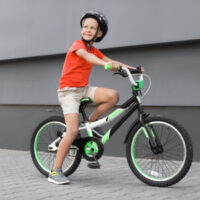 Children and teenagers have been out of school for weeks as a result of the coronavirus pandemic. While parents focus on home-schooling and keeping them up-to-date on their studies, young ones still need time to pursue their own personal interests and hobbies. With visits with friends and other types of activities off-limits, bike riding can provide a way for them to get fresh air and exercise while maintaining social distancing guidelines. Unfortunately, bicycle accidents in Bradenton are a regular occurrence. Drivers distracted by the pandemic only increase the threat. The following provides insight into the problem and tips you can take to protect young cyclists.
Children and Teens Among Those Most At Risk For Bicycle Accidents
People of all ages enjoy riding bikes. Some engage in cycling as a hobby or fun form of physical fitness while others rely on bicycling as a means of transportation. For children and teens, bicycling provides independence and their first taste at navigating local roads. With schools closed and limited recreational options as a result of the coronavirus pandemic, most neighborhoods in Brandenton are seeing an increase in bicycle traffic. To protect these cyclists and prevent bicycle accidents, it is important to be aware of the risks.
According to the Centers for Disease Control and Prevention (CDC), children and teenagers are among the most common victims of bicycle accidents. The injuries they suffer as a result have a tendency to be severe and potentially life-threatening.  Bicycle accidents involving children often occur near driveways, local parks, schools, and nearby shopping centers. Reckless behaviors on the part of drivers is often to blame. This includes:
Speeding and going too fast for conditions;
Running red lights or stop signs and disregarding crosswalk signals;
Driving distracted, such as texting or talking on cellphones;
Driving under the influence of alcohol, drugs, or medications.
With adults anxious and distracted over the situation surrounding the coronavirus, all of the above dangerous driving behaviors are more likely to occur. Young bicyclists need to be made aware of the risks and the precautions they can take to keep themselves safe.
Safety Tips To Prevent Bicycle Accidents
Parents are already overwhelmed with added responsibilities due to the coronavirus pandemic. Allowing children the freedom to ride their bikes can provide everyone with a much needed break. Before young riders head out, though, you need to make sure they are taking some simple safety precautions. The National Highway Traffic Safety Administration (NHTSA) recommends the following tips:
Make sure children wear an approved safety helmet at all times.
Be sure and supervise young bicycle riders.
Check to ensure their bicycle seat is properly sized and that the bike itself is well-maintained.
Have them wear light, bright clothing to increase visibility among drivers.
Remind them to stop at intersections and to stay to the side of the road.
Let Us Help You Today
When bike accidents happen, the Law Office of Steven G. Lavely holds at fault drivers accountable. Contact our Bradenton bicycle accident attorney to discuss how we can help you today.
https://www.lavelylaw.com/eight-danger-zones-that-increase-teen-car-accident-risks/