Police Investigate Causes of Fatal Motorcycle Accident In Bradenton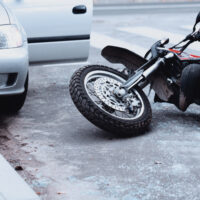 Crash and collisions involving motorcyclists are unfortunately common in our area. When motorcycle accidents do occur, it is generally bikers who suffer the most severe injuries. A recent motorcycle accident in Bradenton claimed the life of a local woman. As police continue investigating the underlying causes of the crash, we take a look at some of the most common reasons why these accidents typically occur.
Bradenton Motorcycle Accident Results In Fatalities
According to a June 20, 2019 news report by the Bradenton Herald, a fatal motorcycle accident on Manatee Avenue West claimed the life of a 31-year-old woman. It happened near the intersection of 47th Street West, when the bike she was riding collided with another motorist.
The force of the collision left the motorcycle pinned under the car. The woman driving it suffered fatal injuries as a result. There is no word yet on the condition of the driver or who was responsible for the crash. Police are continuing to investigate the case and are expected to issue a final report within the next few weeks.
Fatal Motorcycle Accidents Common In Florida
With little to protect motorcyclists in collisions with automobiles, the injuries riders sustain are often severe and life threatening. Statistics from the Governor's Highway Safety Association (GHSA) indicates that Florida has one of the highest motorcycle fatality rates in the country. Motorcycle accidents account for nearly 20 percent of all highway fatalities and leave thousands of bikers with serious and potentially disabling injuries each year.
The GHSA reports that alcohol is a factor in one out of every four of these crashes. Drunk driving on the part of motor vehicle drivers and other motorcyclists is one of the biggest risks bikers face. Other common causes of motorcycle accidents and injuries include:
Speeding and going too fast for conditions;
Tailgating, improper passing, and other aggressive driving behaviors;
Failing to yield and disregarding other traffic signs or signals;
Driving distracted, such as using cell phones or texting.
Motorcyclists can also suffer injuries when driver's open their doors suddenly, fail to signal when making turns, or slam on their breaks. Wet, rainy conditions can also contribute to motorcycle accidents. Bikers should use particular caution in adverse weather, in high traffic conditions, and when driving at night or on bumpy gravel roads.
Let Us Help You Today
At the Law Office of Steven G. Lavely, we know the serious damage that can result from motorcycle accidents. When injuries are severe, the rider may be unable to work while requiring ongoing medical care and physical rehabilitation. In these cases, we hold at fault drivers accountable. When fatalities occur, we help surviving family members get a sense of justice and the compensation they need to cover their losses. If you or someone you care about is involved in a collision, call or contact our Bradenton motorcycle accident attorney online and request a consultation to discuss how we can help you.
Resource:
ghsa.org/sites/default/files/2018-05/ghsa_motorcyclists18.pdf
bradenton.com/news/local/article231761068.html
https://www.lavelylaw.com/helping-families-recover-after-fatal-car-accidents/