Manatee County Man Turns Himself for Fatal Pedestrian Hit and Run Accident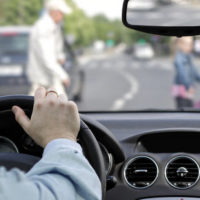 Car accidents involving pedestrians can end up resulting in serious and potentially life threatening injuries. When pedestrian accidents do occur, it is often the driver who is ultimately to blame. Unfortunately, to avoid responsibility for the crash and liability for the injuries suffered, drivers may end up attempting to leave the scene. A break came in the case of a recent fatal pedestrian accident in Manatee County when the hit and run driver responsible turned himself into police.
Driver Admits Role in Manatee County Hit and Run Crash
A tragic pedestrian accident claimed the lives of several people recently in Manatee County. The collision occurred on Saturday, August 17, 2019 on U.S. 19, just south of 49th Street East. According to a news report by WWSB-ABC, three people were walking in the grass on the west side of the road in the early morning hours when they were hit and struck by a driver in a white Chevrolet Silverado headed south. The impact of the collision killed two of the pedestrians, a 47-year-old man and a 13-year-old boy while causing critical injuries for a 40-year-old woman walking along with them. All of the victims were from Palmetto, just a short drive outside Bradenton.
Unfortunately, rather than stopping, notifying police, calling an ambulance, or offering other help to the victims, the driver of the Silverado fled the scene. The accident received extensive news coverage in the aftermath and it only took a few days for the guilty driver to turn himself in. He was identified as another Palmetto resident and claimed he did not stop because he thought he hit a deer and was unaware that there were pedestrians involved. Troopers are continuing the investigation and say the man has been cooperative. No charges have been filed in the case yet.
Apprehending Hit and Run Drivers
According to statistics from the Florida Department of Highway Safety and Motor Vehicles (FLHSMV), the Sunshine State has one of the highest rates for hit and run accidents in the nation. Common reasons drivers often flee the scene include:
They are driving without insurance;
They have an expired license or vehicle registration;
They are engaged in criminal activity or have an arrest warrant issued;
They are under the influence of alcohol or drugs;
They do not have proper citizenship papers and fear being detained and deported.
The majority of hit and run drivers do not willingly turn themselves in to police. However, these drivers are often apprehended through investigations, clues left at the scene, and with the help of neighbors, mechanics, and other members of the public.
Let Us Help You Today
If you have been involved in a pedestrian accident or motor vehicle crash with a hit and run driver, the Law Office of Steven G. Lavely is here to help you identify the person so that they can be held accountable. To discuss your case, contact our Bradenton pedestrian accident attorney today and schedule a consultation.
Resource:
mysuncoast.com/2019/08/17/three-pedestrians-struck-two-killed-fatal-hit-and-run-collision-manatee-county/
https://www.lavelylaw.com/bradenton-man-killed-in-moped-hit-and-run-accident/