Injured in a Ridesharing Car Accident?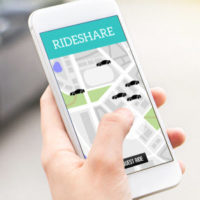 Ride sharing services such as Uber and Lyft offer a convenient, inexpensive way to get where you are going without having to drive. Regularly relied upon by both tourists and locals, you can generally summon one from just about anywhere in Bradenton within a few minutes. They are credited with providing a safer alternative for people who may have overindulged after a night out drinking, keeping them from getting behind the wheel. However, there are some valid concerns regarding the risks for ride sharing car accidents and injuries. The following highlights some of the common reasons why these accidents occur and what you should do if you find yourself involved in this type of collision.
Uber and Lyft Car Accidents
Ride sharing took off slowly across Florida, with representatives from the taxi service industry offering some resistance at first. Now, service providers are available in just about every major city, including Bradenton and the surrounding areas. The increase in the overall number of ride sharing drivers raises some safety issues. In addition to reports of assaults and other types of crimes being committed, the risk for car accidents is a concern.
According to studies conducted by the CATO Institute, ride sharing services such as Uber and Lyft do contribute to keeping drunk drivers off the road. Nationwide, they are credited with being responsible for a roughly two percent drop in these types of collisions. While this may seem like a small number, it is significant considering the thousands of drunk driving related deaths that occur each year. However, due to poor driver judgement and the demands of the job, they are just as likely to engage in reckless behaviors which could put their passengers at risk. These include:
Speeding and going too fast for conditions;
Disregarding traffic signs and signals;
Aggressive driving, such as tailgating and failure to yield;
Drowsy driving, or falling asleep behind the wheel;
Driving under the influence of drugs or medications.
Compensation for Ride Sharing Accidents 
When a ride sharing car accident occurs, both the driver and the company they work for may be liable for the damages you suffer. While drivers are required to carry a certain amount of coverage and companies such as Uber promote the fact that they provide additional insurance policies, getting these companies to pay on your claim can still prove challenging. Steps you need to take to protect your rights to compensation include:
Notify law enforcement immediately when a ride sharing accident happens;
Get the names of the driver, the company they work for, and any others involved;
Make note of the details surrounding the situation and take photos if possible;
Get medical attention right away for any suspected injuries.

Contact Us Today for Help
Ride sharing companies have teams of attorneys on their side when car accidents occur. Get the Law Office of Steven G. Lavely on yours. Call or contact our Bradenton car accident lawyer online today and request a consultation to discuss how we can help.
Resource:
object.cato.org/sites/cato.org/files/pubs/pdf/rb120.pdf
https://www.lavelylaw.com/helping-families-recover-after-fatal-car-accidents/