Golf Cart Accident Raises Awareness of Need for Safety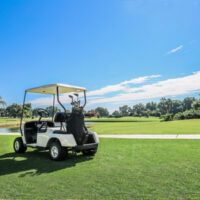 Golf carts are the preferred mode of transportation for many people living in Bradenton. They can be used for quick outings to the beach, to local stores, or for simply traveling around your neighborhood. People of all ages enjoy driving them and while they are a lot of fun, they do come with inherent risks. They are just as likely to be involved in car accidents as any other vehicle, but the lack of protection they offer puts riders at additional danger. A recent crash involving an 80-year-old Bradenton woman highlights the risks and the need for safety if you own a golf cart or ride one regularly.
Bradenton Woman on Golf Cart Suffers Serious Injuries In Crash
An 80-year-old Bradenton woman was out in her golf cart collecting mail on a recent afternoon when she was struck by a passing car. According to a December 27, 2019 news report by the Bradenton Herald, the accident happened near 49th Avenue Drive East in the Golf Lakes Motor Home Park.
Florida Highway Patrol reports that a man in a Volkswagon Jetta was headed southbound and struck the parked golf cart on the right side. Rather than stopping, the driver attempted to flee the scene. He only got a short distance before driving off the road, crashing into a palm tree, and running away on foot. The woman was taken to a local hospital where she is being treated for serious injuries. Police are continuing to investigate the crash and are appealing to the public for help in identifying the driver.
Protecting Yourself Against Golf Cart Accidents
Riding a golf cart in your neighborhood or to local destinations may seem like a fun, safe, and convenient form of transportation but as the above collision shows, other drivers have the potential to pose serious dangers. Golf cart drivers face the same risks as any other motorist of encountering those engaged in reckless behaviors such as speeding, tailgating, running stop signs, driving distracted, or driving under the influence. However,  golf carts generally lack the maneuverability needed to navigate around these drivers and offer little to no protection for those on board.
While most Bradenton golf cart drivers would be reluctant to give up this favorite form of transportation, they do need to take some extra steps to ensure their safety. Esurance encourages the following:
Wear a seatbelt at all times when traveling in a golf cart;
Go slow when making turns to avoid overturning it;
Use your horn to alert others at intersections;
Avoid areas with heavy vehicle traffic;
Avoid driving a golf cart while under the influence;
Be aware of what other drivers are doing at all times and do not take for granted that they will stop or give you the right of way.
Let Us Help You Today
When golf cart accidents happen, a Bradenton car accident lawyer at the Law Office of Steven G. Lavely can help you hold at-fault drivers accountable. To request a consultation, call or contact our office online today.
Resource:
bradenton.com/news/local/crime/article238779208.html
https://www.lavelylaw.com/non-economic-damages-in-bradenton-car-accident-claims/