Drunk Driving Suspected in Fiery Wrong Way Crash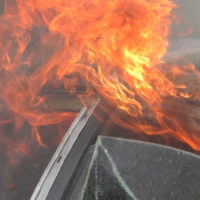 Wrong way car accidents are among the least common types of collisions, but they are also among the most potentially fatal. While there can be a variety of reasons why a motorist travels the wrong way on a one way street or highway exit/entrance ramps, alcohol is often to blame. In a recent St. Petersburg wrong-way accident, both drivers involved are lucky to be alive after one of the vehicles burst into flames.
Wrong Way Crash Injures Two In St. Petersburg
According to a March 22, 2019 report by ABC Action News, drunk driving is to blame for a wrong way car accident that occurred on Interstate 275 in St. Petersburg. The crash occurred just before 3:30 a.m. on Friday morning, near the intersection of 54th Street and Gandy Boulevard. A woman from St. Petersburg was reportedly traveling northbound in the southbound lanes of the interstate when she collided with a vehicle driven by a 24-year-old woman from Clearwater. The force of the impact caused the first woman's car to burst into flames.
Both women were taken to nearby hospitals. The family members of the Clearwater woman state that while she suffered two broken ankles and required emergency surgery, considering the damage caused by the crash she is lucky to have survived. According to Florida Highway Patrol, the woman from St. Petersburg faces several charges for her role in the crash, including driving under the influence (DUI) with serious injury, reckless driving, and driving the wrong way.
The Florida Department of Transportation (FDOT) states that there are several wrong way signs on I-275 meant to warn drivers and sensors are currently being installed on Howard Frankland Bridge. However, this recent accident is now prompting officials to take a second look at the corridor to determine what more they can do to prevent these types of collisions.
Alcohol Use a Common Factor in Wrong Way Car Accidents
In 2016, the National Transportation Safety Board (NTSB) conducted extensive studies of wrong way car accidents. They found that while these types of collisions accounted for only a small percentage of car accidents on U.S. roads, they were responsible for an alarming number of highway traffic injuries and deaths. In roughly 65 percent of wrong way crashes, alcohol was the leading contributing factor. Steps they recommend to reduce the risks include:
Continuing public service campaigns warning of the dangers of drunk driving;
Aggressive efforts by law enforcement in apprehending offenders;
In vehicle driver support systems, such as lane detection devices and alarm systems to warn drivers when collisions are imminent;
Better design and traffic controls near one way streets and highway exit/entrance ramps.
Let Us Help You Today
Wrong way accidents and other types of collisions can have devastating effects on you and other family members, When drunk drivers are to blame for these crashes, the Law Office of Steven G. Lavely is here to help you hold them accountable. Call or contact our Bradenton car accident attorney online today and request a consultation to discuss how we can assist you.
Resource:
abcactionnews.com/news/region-pinellas/fhp-suspected-drunk-driver-to-blame-for-fiery-wrong-way-crash-on-i-275-in-st-pete
https://www.lavelylaw.com/downplaying-car-accident-injuries-can-cost-you-in-the-long-run/