Be Aware of Car Accident Concussion Risks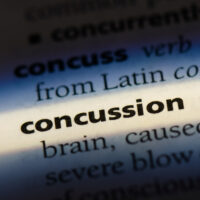 Concussions are one of the most common types of car accident injuries. They are also one of the most potentially dangerous. They can happen in any type of crash or collision that involves a bump, blow, or jolt to the head. The symptoms are subtle but even in relatively minor cases, concussions can have significant impacts on your health for years to come. In honor of National Concussion Awareness Day, our Bradenton car accident attorney wants you to be aware of the potential risks.
National Concussion Awareness Day
Friday, September 20, 2019 has been designated as National Concussion Awareness Day. Part of a nationwide campaign in its third year, it is designed to call attention to how concussions occur and the dangerous impact these injuries can have on your health. Concussions can happen as a result of slips and falls, getting struck by or against objects, or due to sports and recreational events. One of the most common causes is car accidents.
Any type of collision can cause a bump or jolt to the head strong enough to disrupt neural pathways in the brain, resulting in a concussion. Unfortunately, people often miss the symptoms that an injury has occurred. Any time a car accident happens where a head injury is suspected, be alert for these concussion warning signs:
Dizziness and loss of balance;
Blurred vision;
Difficulty forming words or understanding what is said;
Nausea and vomiting;
Loss of memory of the accident;
Difficulty staying awake or loss of consciousness.
The Long Term Effects of Concussion
Even a mild concussion can result in traumatic brain injuries which have long term impacts on your health. According to the Centers for Disease Control and Prevention (CDC), a concussion resulting from a car accident can affect the victim in the following ways:
Cognitive problems, such as difficulty reasoning or remembering names;
Sensory disturbances, affecting the ability to see, smell, feel, or taste;
Communications issues, such as difficulty voicing ideas or opinions;
Emotional problems, such as experiencing anxiety, depression, or fits of anger and rage;
Physical issues, such as difficulty sleeping and chronic headaches.
One of the biggest issues with concussions is that once one has occurred, any future head injuries suffered by the victim have the potential to be even more severe. In light of the long term consequences concussion can cause, it is important to be sure you are fairly compensated in your car accident claim.
Let Us Help You Today
Concussion is a serious matter that can impact you and your loved ones for years into the future. When a car accident happens and a head injury is suspected, it is important to seek medical help immediately. Not doing so could impact your health and your rights in filing a claim.
At the Law Office of Steven G. Lavely, we help concussion victims get the compensation they need to cover the medical costs, lost wages, and other expenses they are likely to incur. Call or contact our Bradenton car accident attorney online and request a consultation today.
Resource:
nationalconcussionawarenessday.com/index.html
cdc.gov/traumaticbraininjury/outcomes.html
https://www.lavelylaw.com/rollover-accidents-how-they-happen-and-how-you-can-protect-yourself/