Wrong Way Crashes Among Most Deadly Types Of Car Accidents In Bradenton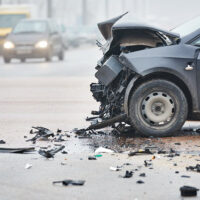 Any type of car accident in Bradenton can result in serious personal injuries, but wrong-way crashes are one of the most dangerous. Unfortunately, they are common on major roads and highways and can leave drivers and passengers suffering severe, potentially life-threatening harm. Our Bradenton car accident lawyer explains more about the risks.
Wrong Way Car Accident Claims Life Of Bradenton Woman
An 80-year-old Bradenton woman was the victim of a recent fatal wrong-way car accident.
A January 2, 2023 WFLA News Channel 8 report states that the crash occurred on US-41 near Buckeye Road, in Manatee County just south of the Hillsborough County line.
Police reports indicate that the woman was traveling as a passenger in a Jeep Wrangler, which was headed in a southbound direction when it encountered another motorist going north but in the wrong lane. The Jeep driver attempted to swerve to avoid a head-on collision but was struck on the right side, causing a loss of control of the vehicle. The Jeep ended up flipping over, ejecting the woman in the process. The driver and another passenger in the vehicle, as well as a 38-year-old Tampa woman, who was the at-fault motorist, all suffered minor injuries.
Unfortunately, the state Department of Highway Safety and Motor Vehicles (FLHSMV) reports that wrong-way car accidents in Florida are common. They claim the lives of more than 100 people each year while leaving thousands of other victims suffering potentially serious personal injuries.
Common Causes Of Wrong Way Car Accidents In Bradenton
According to the Florida Department of Transportation (FDOT), wrong-way car accidents happen frequently on major highways and interstates, particularly near exit or entrance ramps where motorists can easily become confused. They are most likely to occur on weekends, holidays, and during the late night or early morning hours.
Driving under the influence of alcohol is one of the leading contributing causes. Other reckless driving behaviors that can make them more likely to happen include:
Drowsy driving, which mimics the same effects as being under the influence and can cause drivers to fall asleep behind the wheel;
Distracted driving, such as talking on cell phones, texting, and engaging in other activities while driving;
Going too fast for conditions or over posted speeds, which increases both the likelihood of a wrong-way crash and the potential for fatal injuries;
Being under the influence of recreational drugs or any type of medication that impacts your vision, reasoning, reflexes, or driving abilities.
Contact Our Bradenton Car Accident Lawyer 
Wrong-way car accidents in Florida are one of the most common and dangerous types of crashes and can leave innocent victims involved suffering severe, potentially life-threatening injuries. If you are involved in this type of crash, reach out to the Law Office of Steven G. Lavely. While you focus on your recovery, we focus on getting you the compensation you are entitled to in a claim. Call or contact our Bradenton car accident lawyer online and request a consultation today.
Sources:
wfla.com/news/local-news/manatee-county/bradenton-woman-80-dies-after-being-ejected-in-wrong-way-dui-crash-fhp/
flhsmv.gov/pdf/crashreports/crash_facts_2020.pdf
fdot.gov/docs/default-source/traffic/PDF/Wrong-Way-Crash-Study—Final-Report-8-15.pdf