Work Zone Safety: Reducing Your Car Accident Risks In Bradenton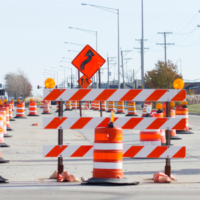 Spring is the time of year when traffic increases in Bradenton. It is also the time when road crews typically undertake major construction projects. In addition to creating traffic tie-ups, it increases car accident risks. Throughout the month of April, state and federal officials will be working to increase awareness of the potential dangers and steps drivers can take to keep both themselves and road crews safe.
Work Zone Safety Week
Work Zone Safety Week is a nationwide event held each year towards the end of April. It is timed to coincide with the spring road construction season and raises awareness of the hazards both drivers and road crews face.
A work zone is defined as any stretch of road where workers, vehicles, trucks, and equipment impact traffic, resulting in road closures, detours, and delays. Taking anywhere from several days to multiple years to complete, these projects endanger the safety of everyone on the road while they are being conducted. The Florida Department of Transportation (FDOT) states that over a recent four year period, there were 50,000 work zone-related car accidents, which claimed the lives of more than 600 people while leaving close to 3,000 others with serious personal injuries.
Rear-end collisions and construction worker pedestrian accidents are among the most common types of work zone-related crashes. Dangerous driving behaviors that are often responsible include:
Disregarding construction signs and traffic signals;
Failure to yield;
Following other drivers too closely;
Improper passing;
Speeding and going too fast for conditions.
Protect Yourself and Others Against Work Zone Car Accidents
Work zones are generally unpleasant to encounter and along with the aggravation they cause, they can make you late for important appointments. The angrier and more stressed you get, the more likely a work zone car accident can happen. One way to reduce your risks is by monitoring local traffic reports and finding alternate ways to reach your destination. If you have to drive a certain route or unexpectedly encounter road work in your travels, the Federal Motor Carrier Safety Administration (FMCSA) recommends the following tips to protect yourself, road construction workers, and other drivers on the road:
Be alert: Pay close attention for signs regarding reduced speeds, detours, and other traffic impacts. Watch for construction vehicles or other equipment, which can be difficult to manage, as well as for drivers behaving in unexpected ways.
Go slow: Expect traffic and slow down when approaching work zones, as slower speed limits generally apply. Going too fast increases accident risks and can result in a hefty traffic fine.
Keep your distance: Allow plenty of space between you, other drivers, and road construction workers and their equipment.
Let Us Help You Today
With decades of experience representing clients injured in different types of car accident cases, the Law Office of Steven G. Lavely can help you get the compensation you need to recover if a work zone crash happens. To request a consultation, contact our Bradenton car accident attorney today.
Resource:
workzonesafety.org/meetings-and-events/wz-awareness-week/
https://www.lavelylaw.com/april-is-distracted-driving-awareness-month-know-your-risks/