Whiplash And Other Common Neck/Back Injuries In Bradenton Car Accidents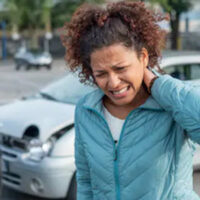 Whiplash and other types of neck or back injuries are common in the aftermath of a car accident in Bradenton. While symptoms may be subtle at first, they can end up requiring long-term medical care and may leave you suffering permanent disabilities. Find out more about the symptoms to be alert for and compensation you may be entitled to in a claim. 
Whiplash One Of The Most Common and Serious Types of Car Accident Injuries
Whiplash is one of the most common car accident injuries. It occurs when a sudden bump or jolt causes the head to 'whip' or move back and forth rapidly, causing damage to the muscles, tendons, ligaments, discs, or vertebrae in the neck. The Mayo Clinic warns that whiplash can happen in any type of collision but is particularly common in rear-end crashes, which happen frequently in heavy traffic, parking lots, or when stopped at intersections.
Impacts associated with whiplash vary. In some cases, victims may get better in a couple of weeks whereas others suffer ill effects for months or even years after. Common symptoms of whiplash to be alert for after a car accident include:
Neck pain and stiffness;
Limited range of motion;
Headaches, which often originate at the base of the skull;
Pain in the shoulders, upper back, or arms;
Tingling and numbness in extremities;
Dizziness and general fatigue.
Whenever any type of car accident happens, it is important to seek medical care immediately and report any symptoms to your doctor. Follow their recommendations regarding diagnostic testing, treatment, follow-up care, and activity restrictions. Not doing so could adversely impact your health and your rights in a car accident claim.
Compensation For Car Accident Neck and Back Injuries 
In addition to whiplash, there are other types of neck and back injuries commonly associated with car accidents. These include strains and sprains to muscles in the lower or upper back and damage to discs or vertebrae. Medline Plus advises that tests used to diagnose back and neck injuries include x-rays, magnetic resonance imaging (MRI), and computed tomography (CT) scans. Depending on the specific diagnosis, your doctor is likely to order a combination of rest, medications, and physical therapy.
In a car accident claim, you are entitled to seek reimbursement for current costs associated with back or neck injuries, as well as any future expenses you are likely to incur. This includes:
Ongoing medical expenses;
Lost earnings and benefits due to short or long term disabilities;
Compensation for the pain and suffering caused by your injuries;
Compensation for any loss of enjoyment in life you experience as a result.
Contact an Attorney for Help Today 
While you focus on recovering from back and neck injuries, the Law Office of Steven G. Lavely can focus on getting you the compensation you are entitled to in a claim. To find out how we can help, give us a call or contact our Bradenton car accident attorney online and request a consultation today.