When A Car Accident In Bradenton Involves An Uninsured/Underinsured Motorist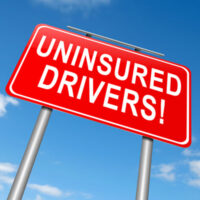 The reckless actions of other drivers can put you and your loved ones at risk. Car accidents in Bradenton are common and personal injuries suffered can result in hundreds of thousands of dollars in medical expenses and other costs. You have a right to hold those at fault responsible. Our Bradenton car accident lawyer explains your options when a crash involving an uninsured/underinsured driver happens.
The Risk Of Being Involved In A Car Accident With An Uninsured Driver
Florida drivers are required to carry a mandatory minimum amount of auto insurance coverage. This helps to protect them and others on the road in the event of a crash. However, according to statistics from the Insurance Information Institute (III), Florida has one of the highest rates of uninsured drivers in the nation.
Roughly 20 percent of all Florida drivers are uninsured. Common reasons cited for failing to have coverage include:
Inability to pay the high costs of insurance premiums;
Overconfidence in their driving abilities and doubts concerning their car accident risks;
Lack of a driver's license or vehicle registration, making it impossible to obtain a policy;
Having DUIs or other traffic offenses, hindering the ability to get coverage and driving up costs.
The Florida Department of Highway Safety And Motor Vehicles (FLHSMV) advises that drivers who fail to maintain at least $10,000 in both personal injury protection (PIP) and property damage liability (PDL) coverage could face serious penalties, including the loss of their driving privileges. Unfortunately, even with these mandatory minimum amounts, it is likely to not cover the total costs associated with a crash. In this situation, or if the driver is uninsured, your best option is often to hold them personally liable by filing a car accident lawsuit against them.
Filing A Car Accident Lawsuit In Bradenton
Why should you have to pay the high costs associated with a car accident in Bradenton when another driver is to blame? While your own insurance policies may cover a portion of your costs, you do have the right to seek compensation from the at-fault driver through a lawsuit filed in the Manatee County Civil Court.
Our Bradenton car accident lawyer can guide you through the process. We investigate your case, gather the evidence needed, and file the required legal documents. Compensation in a lawsuit, which is referred to as damages, that you may be entitled to includes:
Coverage of current and future medical costs associated with your injuries;
Reimbursement for lost wages and any future lost earnings in the event of long-term disabilities;
Additional amounts designed to compensate you for your pain, suffering, and loss of enjoyment in life.
Request A Consultation With Our Bradenton Car Accident Lawyer Today
You only have one chance to get the compensation you need to recover from car accident injuries. At the Law Office of Steven G. Lavely, we help you get the maximum amount you need to recover. To request a consultation, call or contact our Bradenton car accident lawyer today.
Sources:
iii.org/fact-statistic/facts-statistics-uninsured-motorists
manateeclerk.com/