Uninsured Drivers Pose Major Threat: What To Do When Car Accidents Happen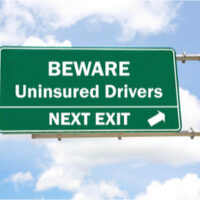 Insurance policies protect us and others when unexpected events happen. When car accidents occur due to the reckless behavior of other drivers on the road, one of the first steps is typically to file a claim against their insurer. Unfortunately, plenty of people in Florida lack the required coverage. This has become an even more common problem due to financial hardships caused by the coronavirus pandemic. When a car accident in Bradenton does happen and involves an uninsured driver, it is important to be aware of what you can do to protect your rights to compensation.
Your Chances Of Encountering An Uninsured Driver
The Florida Department of Highway Safety and Motor Vehicles (FLHSMV) advises that all motorists in the state are required to carry a mandatory minimum amount of coverage to protect them in the event of car crashes and collisions for which they are to blame. Unfortunately, insurance policies can get expensive, particularly if you are a new driver, have prior car accidents, or a history of traffic citations. Cost is one of the main reasons for drivers to be uninsured. Considering the economic fallout from the coronavirus pandemic and the number of people unemployed, you are now more likely to encounter uninsured drivers on the road.
Even before the pandemic, Florida was known as having the highest rate of uninsured drivers in the country. Statistics from the Insurance Information Institute (III) indicate that nationally, roughly 13 percent of all drivers are uninsured. Florida's uninsured driver rate is more than twice that amount. In addition to financial factors, other issues that cause motorists to not carry insurance include:
License suspension or revocation due to DUIs or failure to pay child support;
Lack of proper vehicle registration;
Inability to obtain insurance due to poor driving record;
Citizenship issues, which make getting a license or insurance impossible.
Your Rights To Compensation In Uninsured Driver Car Accidents
When another driver's reckless behavior causes a car accident that leaves you suffering serious personal injuries and property damages, you have the right to hold them accountable in a claim. If an insurance policy is unavailable, or in cases where the amount of insurance fails to cover your total losses, you are entitled to file a lawsuit against them through the Manatee County Civil Court.
Our Bradenton car accident attorney can guide you through this process. Actions we can take include:
Conducting a thorough investigation into your case;
Gathering evidence against the at-fault driver involved;
Obtaining statements from your doctor regarding the severity of your injuries;
Determining the total amount of losses you are likely to suffer, both now and in the future;
Filing the appropriate legal documents in court;
Aggressively arguing your case;
Taking enforcement actions to ensure any judgments are paid.
Let Us Help You Today
As an experienced trial attorney, one of only a small percent in the state, the Law Office of Steven G. Lavely can help you hold uninsured drivers responsible in a claim. To request a consultation, contact our Bradenton car accident attorney today.
https://www.lavelylaw.com/do-i-need-a-car-accident-lawyer-to-handle-my-claim/