Unchecked Automotive Defect and Safety Recalls Increase Your Car Accident Risks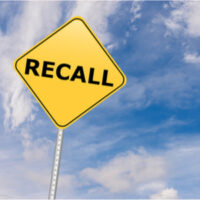 Product defects can leave you suffering from serious injuries. This is particularly true when it comes to the automotive industry. Car recalls are issued on a surprisingly frequent basis, generally due to issues that increase car accident risks or the severity of injuries drivers and their passengers are likely to suffer as a result. Staying up to date on these issues and taking your car in for the proper repairs can help to protect you and others on the road.
How Automotive Defects Put Drivers In Danger
According to a January 8, 2020 USA Today news report, one of the largest automotive recalls in history is finally coming to an end. Takata, a now-bankrupt Japanese automotive parts manufacturer, announced a recall of 10 million car airbags, which had been sold to at least 14 different auto manufacturers. It is expected to be the last in a series of recalls the company was forced to make since 2013, involving more than 56 million defective airbags installed in over 41 million vehicles.
Airbags are designed to protect and cushion drivers and their passengers in the event of a collision. The problem with the Takata airbags, which were one of the most commonly used in the automotive industry, was that they had a tendency to explode, either during a crash or while simply driving down the road. The force of these explosions caused hundreds of injuries and at least 16 deaths. In addition to the impact of the mass recalls, the number of product liability lawsuits filed against the once multi-billion dollar company caused it to go into bankruptcy.
Car manufacturers and parts suppliers are routinely forced to issue recalls over automotive defects and safety issues. They impact everything from pick-up trucks to luxury town cars and often include:
Problems with brake system functions;
Tire issues, which can increase blowout risks;
Suspension issues, causing a sudden loss of control of the vehicle;
Sudden acceleration, causing the car to lurch forward uncontrollably;
Poor design, which increases the likelihood of a rollover.
Check Your Car For Recalls
In addition to increasing your car accident risks, automotive defects can also increase your odds of suffering severe and potentially life-threatening injuries. Unfortunately, while federal agencies do provide oversight of the automotive industry and can force manufacturers to issue recalls, many drivers fail to pay attention to them.
As a result, the National Safety Council and the National Highway Traffic Safety Administration (NHTSA) have teamed up to launch the Check to Protect campaign. Over 50 million vehicles on the road have unchecked recall issues. Whether you drive a new car or an older vehicle, you can check your vehicle identification (VIN) number on the NHTSA website. If a recall has been issued, the manufacturer will fix the problem for free.
Reach Out to Us Today for Help
At the Law Office of Steven G. Lavely, we hold automobile manufacturers accountable for defects that cause you to suffer serious personal injuries. To discuss your options in filing a claim, contact our Bradenton car accident attorney and request a consultation today.
Resource:
nhtsa.gov/recalls
nsc.org/road-safety/safety-topics/vehicle-recalls
usatoday.com/story/money/cars/2020/01/08/takata-airbag-recall-2020-more-airbags-recalled-explosion-risk/2848334001/
https://www.lavelylaw.com/national-teen-driver-safety-week-raises-awareness-of-car-accident-risks/