Truck Accidents In Bradenton A Serious Hazard For Drivers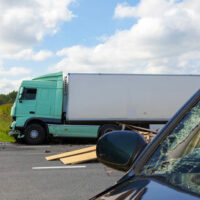 Truck accidents in Bradenton are one of the most serious types of crashes. They are common in our area and considering the large size and weight of most big rigs, it is often other motorists involved who suffer the most serious harm. A recent fatal truck accident highlights the potential dangers. Find out common reasons why they happen and how you can get compensation for losses you suffer. 
Fatal Truck Accident In Bradenton: Common Causes In These Crashes
A recent truck accident in Bradenton closed down multiple lanes of traffic and left at least one person involved with fatal injuries. According to a September 16, 2021 Fox 13 News report, the crash happened at U.S. 301 near 44th Avenue East. Police are continuing to investigate and have not released any details, only that a commercial vehicle was involved.
Considering our close proximity to several major highways and interstates along the Gulf Coast, trucks frequently travel through Manatee County on their way to other destinations. The mere presence of tractor-trailers, semi-trucks, and other big rigs on the road creates risks for other drivers. Their tall height makes it more difficult to see surrounding motorists and their heavy weight makes them more challenging to navigate. It also increases the likelihood for severe injuries in the event a crash does happen. Among the most common causes of truck accidents includes:
Recklessness on the part of the truck driver, such as speeding, tailgating, and driving distracted or while under the influence;
Drowsy driving, which is common among truckers due to overly demanding schedules;
Truck maintenance issues, such as tire blowouts and brake failures, which make truck accidents more likely to happen;
Trucking company negligence, such as overscheduling drivers and not penalizing them for traffic infractions.
Getting Compensation When Truck Accidents Happen 
The Federal Motor Carrier Safety Administration (FMCSA) advises motorists to use extreme caution when sharing the road with truckers. Give them plenty of space, avoid cutting them off in traffic, and stay out of trucking 'no zones', which are large blind spots that extend out in front, behind, and along each side of the truck.
When a truck accident in Bradenton does happen, be aware you may be entitled to hold both the truck driver and the trucking company responsible in a claim. Depending on the circumstances, insurance policies they have in place may help offset your losses. In the event of severe injuries or in cases where the trucking company disputes your claim, you may have the right to file a truck accident lawsuit against them.
Contact an Attorney for Help 
Trucking companies have teams of attorneys on their side, ready to defend them and their drivers against claims. To get the compensation you need to recover, get the Law Office of Steven G. Lavely on your side. Reach out and call or contact our Bradenton truck accident attorney online and request a consultation to find out how we can help you today.
Sources:
fmcsa.dot.gov/sites/fmcsa.dot.gov/files/docs/ourroads/80251/driving-safely-around-cmvs.pdf
fox13news.com/news/one-dead-in-semi-truck-crash-in-manatee-county