Tourist Season Brings Increased Car Accident Risks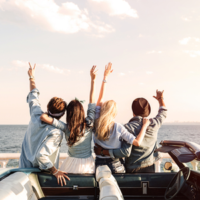 Memorial Day acts as the official kick-off to summer. In Bradenton, it also marks the beginning of what will undoubtedly be another busy tourism season. People are eager to travel, particularly after staying home for the past year due to the COVID-19 pandemic. While this means a much-needed boom for local businesses, it also creates certain risks for residents. Car accidents in Bradenton are more common over the summer months. Be aware of how they happen and the ways you can protect yourself.
Increased Crowds Create Hazards On Local Roads
According to Hotel Online, the state of Florida has been in the midst of a tourism boom over the past few years and Bradenton is one of the areas most affected. More than three million visitors are expected to descend on Manatee County for vacations, many of them through the period of Memorial Day through Labor Day. This means heavier traffic on local roads, which is inherently dangerous. Unfortunately, tourists are also among those most likely to engage in reckless driving behaviors, such as:
Aggressive driving, including tailgating, failing to yield, and improper passing;
Driving while distracted, such as using cell phones, texting, taking pictures, or simply looking at local sights rather than the road;
Driving under the influence of alcohol or drugs;
Drowsy driving, which mimics the same effects as driving under the influence;
Running red lights and stop signs, or disregarding other traffic signals;
Speeding and going too fast for conditions.
Even when tourists are on their best behavior, they are still more likely to make mistakes that can endanger them or others on the road. This includes driving down wrong way streets, making sudden stops, and not stopping at pedestrian crosswalks.
What To Do If A Car Accident In Bradenton Happens
Local residents in Bradenton are encouraged to use extra caution when driving during the busy summer season. This includes going slower than normal near the beach or busy attractions, giving other drivers plenty of distance, and allowing extra time when making trips. If a car accident does happen, follow these steps:
Notify the Bradenton Police immediately, regardless of the severity of the crash;
Get the color, make, model, and license plate number for the vehicle involved;
Stop as close to the scene as possible, taking care to avoid blocking other traffic;
Exchange contact, driver's license, and insurance information with anyone involved;
If the person is driving a rental car, get the rental car company information;
Take pictures at the scene and get contact information for any witnesses;
Get medical attention for your injuries, regardless of severity;
Contact your insurance company in the days after.
Contact Us Today for Help
At the Law Office of Steven G. Lavely, we help you hold at-fault drivers accountable when car accidents happen. This includes people visiting from other states. To discuss your options in filing a claim, give us a call or contact our Bradenton car accident attorney online and request a consultation today.
Resource:
hotel-online.com/press_releases/release/wave-of-tourism-hitting-bradenton-is-growing-heres-what-to-expect-for-rest/#:~:text=Drive%20Growth%20Strategy-,Tourism%20Boom%20Hits%20Bradenton%2C%20Florida%20With%20More%20Than%203.1%20Million,Up%202%20Percent%20From%202016&text=May%2010%E2%80%93PALMETTO%20%E2%80%94%20The%20Bradenton,up%202%20percent%20from%202016.
https://www.lavelylaw.com/april-is-distracted-driving-awareness-month-know-your-risks/