Tire Blowout Responsible For Fatal Food Truck Crash Near Bradenton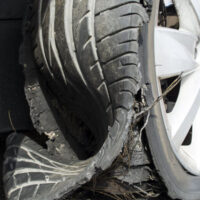 Mechanical failures increase the risk of car accidents in Bradenton. Unfortunately, this was the case in a tragic crash that claimed the lives of two local food truck operators recently. Specifically, a tire blowout sparked the tragedy. Our Bradenton car accident lawyer explains more about what happened and what other drivers need to be aware of regarding tire safety.
Couple Killed In Sarasota County Rollover Accident
A local couple who operated a food truck in Bradenton and Sarasota were recently killed in a fiery rollover crash on I-75. According to an August 17, 2022 Fox News 13 report, the underlying cause was a tire blow out.
Police reports indicate the couple was headed south on !-75 near Fruitville Road when the food truck they were driving suffered a tire blowout. As a result, the truck overturned and burst into flames, trapping the couple inside. They were well known for serving lunch to construction workers in the community and sadly, leave behind two young children. Candlelight vigils in remembrance were held in the aftermath and other local food truck vendors have worked within the community to help ensure the couple's children are provided for.
Sadly, these types of crashes are not uncommon. Mechanical failures are a common contributing factor in car accidents in Bradenton, and problems with tires are among the leading causes.
Protecting Yourself Against Car Accidents Due To Tire Blowouts
Any type of automotive defect or mechanical failure can put drivers and their passengers at serious risk. In addition to the dangers of breakdowns or being struck on the side of busy roads, it can cause loss of control of the vehicle, making a crash more likely to happen.
Tire problems are a leading cause. According to statistics from the National Highway Traffic Safety Administration (NHTSA), tire blowouts and other malfunctions are responsible for roughly 11,000 crashes each year. Among the most common tire problems include:
Under or over inflated tires;
Driving on unevenly worn treads;
Driving on bald tires;
Tread separations.
All of these are common causes of tire blowouts, which can have serious impacts on a driver's ability to maintain control over the vehicle and may contribute to rollover crashes. While proper tire maintenance is important, in many cases manufacturing defects are to blame. To protect yourself and prevent these types of crashes from happening, monitor tire condition regularly, replace tires that are worn, bulging, or otherwise showing signs of wear, and be alert for tire recalls. You can find a listing of these on the NHTSA website.
Our Bradenton Car Accident Lawyer Is Here To Help
Product defects can make tire blowout accidents more likely to happen. At the Law Office of Steven G. Lavely, we help victims and their families hold manufacturers responsible and get the compensation they need to recover in the aftermath. To find out how we can help in your case, call or contact our office online and request a consultation with our Bradenton car accident lawyer today. .
Sources:
one.nhtsa.gov/About-NHTSA/Press-Releases/ci.SAFETY-ADVISORY:-NHTSA-Urges-Drivers-to-Check-Tires-During-Hot-Weather.print#:~:text=NHTSA%20estimates%20that%20tire%20failure,a%20major%20cause%20of%20failure.
nhtsa.gov/recalls#tires