Take The Time Needed To Recover From Whiplash Injuries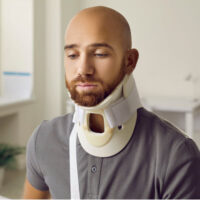 Whiplash involves painful strains, strains, and tears of soft tissues in the neck. One of the most common types of car accident injuries, it is also one of the most downplayed. Our Bradenton car accident lawyer explains more about whiplash injuries and how rushing recovery could impact your rights in a claim.
Symptoms of Whiplash Injuries
Whiplash injuries can occur due to any type of sudden jolt or forceful rocking of the head and neck. They are particularly common in car accidents, with rear-end collisions among the leading causes. In the aftermath of any crash, seek medical care immediately. Not doing so could jeopardize your health and your rights in filing a claim.
Symptoms of whiplash are often subtle at first and victims may downplay their severity. Unfortunately, this could adversely affect you for years after. The Mayo Clinic advises being alert for these warning signs:
Pain in the neck and shoulder region;
Stiffness and limited range of motion;
Headaches, particularly those that originate from the bottom of the skull;
Numbness and tingling in the arms, hands, legs, or feet;
Dizziness and excessive fatigue.
Whiplash can also result in cognitive symptoms. These can impact your vision, hearing, memory, perception, and overall mood. Report any issues you experience to your doctor and follow all instructions for recovery, including any activity restrictions.
Take Whiplash Injuries Seriously
Even a relatively minor car accident in Bradenton can result in whiplash injuries. While you may be tempted to downplay the situation or the symptoms you suffer from, it is important to take these injuries seriously. The National Institutes of Health (NIH) advises that while whiplash victims can recover in as little as a few months, many suffer ongoing symptoms that could end up resulting in long-term disabilities.
When dealing with whiplash or any type of car accident injury in Bradenton, it is important to know that you only have one chance to get compensation in a claim. Insurance companies involved may attempt to offer you an immediate settlement. Unfortunately, this is a tactic they use to save themselves money and is likely to be far less than what you are entitled to or need to recover from your injuries. Following these tips protects your rights and helps you get the maximum amount you deserve in a settlement:
Make sure your whiplash injuries are thoroughly documented by your doctor;
Keep copies of all medical records, including receipts and results of diagnostic tests;
Document lost wages and any impacts you suffer on the job;
Start a journal, detailing your symptoms and how your injuries affect other areas of your life.
Our Bradenton Car Accident Lawyer Helps You Get Compensation For Whiplash Injuries 
To avoid paying out-of-pocket for medical costs and lost wages due to whiplash, reach out to the Law Office of Steven G. Lavely for trusted legal guidance in filing a claim. Our experienced Bradenton car accident lawyer can help you get the maximum amount you need to recover. Call or contact our office online and request a consultation today.
Sources:
mayoclinic.org/diseases-conditions/whiplash/symptoms-causes/syc-20378921
ninds.nih.gov/health-information/disorders/whiplash