Take Precautions To Prevent Motorcycle Accidents In Bradenton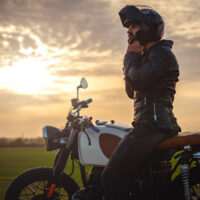 Motorcycle accidents are among the most severe types of crashes and can result in devastating personal injuries. If you are an enthusiast, our Bradenton motorcycle accident lawyer wants to be aware of the risks and precautions you can take to protect yourself. 
Bradenton Man Killed In Motorcycle Accident
A 20-year-old Bradenton man was recently killed in a fatal motorcycle accident in Manatee County. According to an August 3, 2022, My SunCoast news report, the crashes happened around 11:00 a.m. on a weekday morning, just south of State Road 64 in Lakewood Ranch. Witnesses reported seeing the biker speeding northbound when he swerved into a bike lane to pass a slower-moving vehicle. At the same time, a Subaru sedan was emerging from a parking lot and attempting to cross into the northbound lanes.
Unfortunately, the motorcyclist ended up crashing into the driver's side of the vehicle. The 83-year-old man behind the wheel suffered serious injuries and was taken to a local hospital. The motorcyclist was thrown from his bike due to the force of the crash and ended up dying at the scene.
Whether you ride a motorcycle for fun or as a primary means of transportation, it is important to be aware of potential hazards and actions you can take to help reduce the risks of a crash. These include:
Follow all traffic safety rules anytime you are on the road;
Avoid speeding and other dangerous driving behaviors;
Only drive in designated lanes and avoid swerving back and forth to pass other vehicles;
Never assume another motorist sees you or will stop.
Be Alert To Reckless Drivers
According to the Florida Department of Highway Safety and Motor Vehicle (FLHSMV), close to 150 motorcycle accidents in Manatee County happen each year. Of these, more than 10 percent prove fatal.
For motorcyclists, it is important to take safety precautions to protect themselves. It is also important to be aware of common types of reckless driving behaviors on the part of other motorists that can put them at risk. This includes:
Failing to yield: Motorcycle accidents in intersections, near side streets, and in parking lots are common and often occur due to motorists who fail to yield.
Improper passing: Motorcycles generally cannot brake as fast as other vehicles. Swerving past them and cutting them off when passing is a common cause of motorcycle accidents in Bradenton.
Tailgating: For vehicle drivers, following a motorcyclist too closely is a common type of aggressive driving behavior and is often meant to try and intimidate them or force them to move out of their lane.
Driving distracted or under the influence: For both motorists and motorcyclists, driving distracted or under the influence significantly increases crash risks.
Get Trusted Legal Guidance From Our Bradenton Motorcycle Accident Lawyer
Motorcycle accidents in Manatee County can cause devastating personal injuries. At the Law Office of Steven G. Lavely, we provide the trusted legal guidance you need in filing a claim. Call or contact our office online and request a consultation with our Bradenton motorcycle accident lawyer today.
Sources:
mysuncoast.com/2022/08/03/motorcyclist-dies-lakewood-ranch-crash/
flhsmv.gov/pdf/crashreports/crash_facts_2020.pdf