Tailgating A Common (And Dangerous) Driving Behavior, May Have Contributed To Fatal Bicycle Accident In Bradenton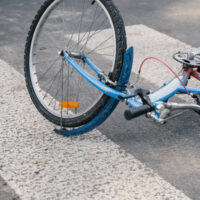 Drivers who get frustrated in traffic often end up engaging in dangerous behaviors that put others at risk. Tailgating is one of the most common and involves following others too closely. A frequent cause of car crashes, it may have led to a recent fatal bicycle accident in Bradenton.
Fatal Bicycle Accident In Bradenton: Was Tailgating To Blame? 
A recent bicycle accident in Bradenton claimed the life of a Sarasota man. According to a November 3, 2021 Bradenton Herald news report, the 63-year-old cyclist was traveling southbound on the inside lane of U.S. 41 when a 54-year-old Bradenton man in an SUV approached him from behind. As they neared the intersection of 32nd Ave. West, the SUV driver struck the bicyclist from behind, causing him to roll onto the hood and windshield of the vehicle before coming to land on the road. Sadly, the bicyclist died at the scene. Police are continuing to investigate but anticipate filing charges against the driver.
While they have not revealed exactly what caused the crash, tailgating may have played a role. It is a common type of aggressive driving behavior and a frequent factor in rear end collisions. Drivers often engage in tailgating when they are running late, when they encounter heavy traffic, and when they are speeding or attempting to rush through a traffic signal.
Holding Tailgaters Accountable For Their Actions
Tailgating is dangerous to everyone on the road and increases the risk of car accidents. Under the Florida Statutes, it is considered a moving violation, resulting in heavy fines and points on your driving record. The at-fault driver can also be held liable for any injuries that result from their behavior. If you are the victim in a crash caused by tailgating, you have the right to hold the driver accountable. To protect your rights in filing a claim, it is important to take the following steps:
Notify law enforcement immediately so that an accident report can be filed;
Get a description of the driver and their vehicle, just in case they attempt to flee the scene;
Exchange contact, vehicle, and insurance information with the driver once the police arrive at the scene;
Seek medical attention for your injuries and follow your doctor's instructions requiring treatment and activity restrictions.
In the event someone is killed as a result of a tailgating accident, their surviving family members may be entitled to file a wrongful death lawsuit. While no amount of money can bring back your loved one or ease your suffering, a wrongful death lawsuit can provide a sense of justice while helping to ensure you are provided for in a way they would have wanted.
Let Us Help You Today 
Tailgating can put bicyclists, motorcyclists, and other drivers on the road at risk. At the Law Office of Steven G. Lavely, we help you hold those at fault accountable. To discuss your options in filing a claim, call or contact our Bradenton bicycle accident attorney online and request a consultation today.
Source:
bradenton.com/article255513306.html