SUV Rollover Car Accidents: Know The Risks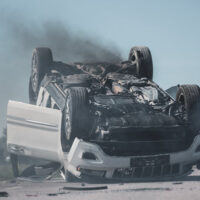 SUVs are one of the most popular types of vehicles, particularly for families, and it is easy to see the appeal. Whether hauling grocery orders or taking children and their friends to activities, they provide plenty of room. They are so commonplace that we tend to think of them the same as any other vehicle, but they are different and the design creates certain risks. Rollover SUV car accidents are common and can result in serious personal injuries. A recent case highlights the dangers and the need for caution.
Bradenton Family Injured In SUV Rollover Accident 
According to an April 11, 2022 WFLA news report, a Bradenton family was seriously injured in a recent SUV rollover car accident in Manatee County. The crash happened on Saturday morning, around 9:30 a.m. on State Road 31.
Police reports indicate that the SUV was traveling southbound when it crossed over the median, crashed head-on with a vehicle in the opposing lane, and then rolled over into traffic. Inside the SUV, there were two adults and four children ranging in age from 15 to two. All were taken to local hospitals with serious personal injuries, as were the driver and a passenger in the other vehicle.
Sadly, SUV rollovers are common in collisions with other motorists, such as in the above case. Single-vehicle rollovers, in which others are not involved, can also happen due to the following reasons:
Speeding and going too fast for conditions;
Making too tight of turns;
Suddenly slamming on the brakes and skidding;
Swerving and hitting unpaved areas, sidewalks, or median strips. 
Take Precautions To Prevent SUV Car Accidents
SUVs continue to be popular, particularly with families. Currently, they are the vehicle of choice for an average of more than 20 percent of drivers. However, Consumer Reports warns potential buyers to be aware of the risks.
Their tall height and narrow width make SUVs more likely to roll over than other vehicles. While rollovers occur in less than five percent of all accidents, they are responsible for nearly thirty percent of all fatal injuries. Precautions to prevent SUV rollover car accidents include:
Check safety ratings: The National Highway Transportation Safety Administration (NHTSA) provides safety ratings for new and older model SUVs. Before making a purchase, check for stability enhancements that reduce rollover risks.
Avoid uneven loading practices: Whether you are carrying cargo or passengers, distribute weight evenly throughout the SUV. Uneven loading makes rollover accidents more likely to happen.
Go slow: Keep in mind an SUV is not like other motor vehicles. Slow your speed when switching lanes, navigating curves, or making turns.
Pay attention: Swerving and other sudden movements increase the risk of a rollover.
Contact Our Bradenton Car Accident Attorney 
SUV rollover car accidents often result in serious personal injuries. Find out how you can get the compensation you need to recover. Call the Law Office of Steven G. Lavely or contact our Bradenton car accident attorney online and request a consultation today.
Sources:
consumerreports.org/cro/2012/02/rollover-101/index.htm
wfla.com/news/local-news/3-kids-2-bradenton-adults-involved-in-rollover-crash/