Summer Road Trip? Ten Tips to Prevent Car Accidents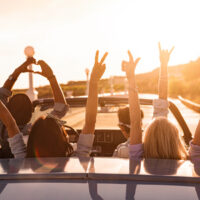 Now that summer is officially in full swing and pandemic related restrictions have largely been lifted, many people will be planning road trips. With all that has gone on the past few months, some time traveling and visiting loved ones or relaxing at your favorite vacation destination can provide a welcome break. However, it is still important to take the appropriate precautions. In addition to wearing masks when required and social distancing, you want to take steps to reduce your car accident risks. The following are ten easy tips to follow.
Reduce Car Accident Risks on Road Trips
Summer is one of the most popular times to travel and take road trips. Unfortunately, the National Safety Council (NSC) reports it is also one of the most common times for car accidents to happen. Whether you are visiting the Bradenton area or are a local traveling to other places, crashes and collisions that occur on the road can leave you suffering serious personal injuries. To protect yourself, follow these tips:
Get your car checked before you go. Take your vehicle to a local mechanic for a thorough once over and make any needed repairs.
Give it a thorough cleaning. Cleaning inside makes it more comfortable for you and your passengers. Clean your windows and head, tail, and brake lights to increase visibility.
Pack an emergency kit. Include an extra cellphone charger, jumper cables, a flashlight, batteries, a blanket, bottled water, and some snacks just in case you break down.
Consider roadside assistance plans. These can help to prevent you from being stuck on the side of the road, which increases your injury risks.
Chart your path. Research in advance the route you will be traveling and check for road construction or other potential issues.
Let others know your plans. Inform your family or friends of when you are leaving, the route you are taking, and when you expect to arrive.
Get plenty of rest the night before. According to the Centers for Disease Control and Prevention (CDC), driving on less than eight hours of sleep mimics the same effects as driving under the influence. Get a good night's sleep before your trip and take breaks on the road if you feel yourself getting overly tired.
Check the weather. Rain and fog can make roads slippery. Check the forecast and adjust your driving times accordingly. If you do encounter rain, reduce your speed. If it storms, considering pulling over and letting it pass.
Avoid distractions. Distracted driving is another leading cause of car accidents. Leave your cell phone in the glove department and avoid changing GPS settings while driving.
Use extra care once you reach your destination. In your excitement, be mindful of speed limits and traffic signals while being considerate of others on the road.
Contact Us Today for Help
When car accidents happen, Bradenton car accident attorney Steven G. Lavely helps you hold at fault drivers accountable so you can get the compensation you are entitled to in a claim. Call or contact our office online to request a consultation today.
https://www.lavelylaw.com/100-deadliest-days-of-summer-aims-at-preventing-teen-car-accidents/