Summer Months Bring Increase in Car Accidents Involving Tourists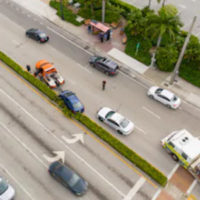 As the summer reaches its peak, places throughout Florida are being flooded with tourists drawn by our warm weather and sunny beaches. Bradenton itself draws plenty of summer visitors, as do Sarasota and the surrounding areas. Unfortunately, this influx of motorists often results in an increase in car accidents and injuries. The following highlights some of the common causes and how you can protect yourself.
Common Causes of Tourist-Related Car Accidents
According to reports by USA Today earlier this year, a record 126.1 million tourists visited Florida in 2018. This year, that number will likely increase. While the Sunshine State is a year round destination, many of these visitors end up arriving at some point over the summer season.
Children being off school and scheduled vacation times make the period from June through August a busy one in Bradenton. With our close proximity to major highways and other resort towns, traffic is heavy during the summer season. In addition to increasing road congestion, it also makes it more dangerous for locals due to an increased risk of car accidents. Among some of the most common reasons why these crashes occur include:
Unfamiliarity with the area: While some visitors come each year, most are generally unfamiliar with the area. As a result, they are more prone to wrong way accidents and are likely to be unfamiliar with speed limits or where stop signs are located.
Increased alcohol consumption: Being on vacation, tourists are more likely to over indulge when it comes to alcohol use. As a result, impaired driving car accidents are a bigger threat.
Increased risk of distraction: Visitors are excited to be here and can easily be distracted in looking at the different sights or talking to others in their vehicle. They are also more likely to be on the phones, using GPS, or taking videos and pictures. This increases the likelihood of distracted driving crashes.
Holding Out-of-Town Drivers Accountable
According to the Florida Department of Highway Safety and Motor Vehicles (FLHSMV), more than 6,000 car accidents occur each year in Bradenton. Speeding, disregarding traffic signals, distracted driving, and driving under the influence are all among the most common causes. When you are involved in a crash with a tourist, it is important to follow some simple rules to protect yourself and your rights to compensation. These include:
Notify law enforcement immediately;
Get as much information as you can about the other driver, including their address, insurance provider, license plate number, and whether the vehicle is a rental car;
Report it to your own insurance company as soon as possible;
Speak our Bradenton car accident attorney before making any statements or signing any documents.
Let Us Help You Today
At the Law Office of Steven G. Lavely, we help you hold at fault drivers accountable for damages you suffer as a result of a collision. When these crashes involve tourists, you need our team on your side to ensure you get the compensation you are entitled to. To request a consultation, call or contact our Bradenton car accident attorney online today.
Resources:
flhsmv.gov/pdf/crashreports/crash_facts_2017.pdf
usnews.com/news/best-states/florida/articles/2019-02-21/record-1261-million-tourists-for-florida-in-2018
https://www.lavelylaw.com/visiting-on-vacation-what-to-do-in-the-event-of-car-accidents-and-injuries/