Step By Step Guide: What To Do In Case Of A Car Accident In Bradenton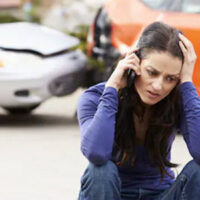 Car accidents in Bradenton happen when you least expect them. As you may have never dealt with this type of situation and are likely in a state of shock, it is common to not know what to do in the aftermath. The steps you take now can have major impacts on your rights in filing a car accident claim. To ensure you are protected, follow our step-by-step guide. 
What Should I Do If A Car Accident In Bradenton Happens?
Regardless of your driving record or how experienced you are behind the wheel, the odds are strong of eventually being involved in a car accident in Bradenton. According to the Florida Department of Highway Safety and Motor Vehicles (FLHSMV), close to 6,000 people are injured in crashes throughout Manatee County each year.
What should you do if a car accident does happen? Follow these six steps:
Pull over and get a description of the driver.
Pull over to the side of the road as close to the accident scene as possible, taking care to avoid blocking traffic. This can protect you against additional personal injuries while reducing the potential of a multi-vehicle pile-up. Get a description of the driver and the make and model of the vehicle as well. Hit-and-run car accidents in Florida are unfortunately common.
Notify the proper authorities.
Under the Florida Statutes, you are required to notify the police of car accidents resulting in personal injuries or more than $500 worth of property damages. Depending on your location, notify the Bradenton Police, the Manatee County Sheriff, or Florida Highway Patrol. If you suspect others are seriously injured, call for an ambulance as well.
Exchange information with other motorists involved.
Once the police arrive at the scene, you will need to provide personal information to them and exchange it with other drivers involved. This includes names, addresses, and other contact information, as well as insurance, driver's license, and vehicle registration numbers.
Gather evidence at the scene.
Evidence gathered at the scene plays a crucial role in getting compensation for your injuries. Get the names and contact information for any witnesses present and take photos of the area, your injuries, and damage to your vehicle.
Get medical care immediately, regardless of your injuries.
Serious car accident injuries can have symptoms that are subtle at first. Regardless of severity, seek medical care immediately. Follow all of your doctor's instructions regarding follow-up care and activity restrictions.
Notify your insurer.
Notify your insurance company as soon as possible after a car accident in Bradenton. Not doing so is a violation of your policy and can result in denial of your claim. 
Contact Us Today for Help 
Before making any statements to insurers or accepting any settlements, speak to the Law Office of Steven G. Lavely first. We can help you in obtaining the maximum amount in any settlements.  To request a consultation, call or contact our Bradenton car accident attorney online today.