Steer Clear Of Aggressive Drivers To Prevent Car Accidents and Injuries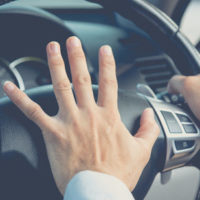 Most of us have had the unfortunate experience of coming across an angry, aggressive driver on the road. Whether in response to traffic conditions or as the result of your actions as a driver, their actions can put you and your passengers at risk. Aggressive driving is one of the leading causes of car accidents and injuries in Florida and throughout the United States. Knowing the types of behaviors to avoid as well as how to de-escalate potentially hostile situations with other motorists can help to increase your overall safety.
Common Types of Aggressive Driving Behaviors 
According to traffic safety experts and data from crash reports, the Insurance Information Institute (III) states that aggressive driving is one of the most common causes of serious and potentially life threatening car accidents, resulting in close to 50,000 traffic fatalities each year.  Roughly 60 percent of all motor vehicle accidents list aggressive driving as a contributing cause, the most common of which include the following:
Speeding and going too fast for conditions;
Tailgating, or following too closely;
Failure to yield the right of way;
Driving while distracted, such as using cell phones, texting, or adjusting GPS settings;
Failure to obey traffic signs and signals;
Operating a vehicle in a reckless manner, such as weaving in and out of lanes or driving on the shoulder.
In addition to being dangerous, the above actions are illegal under Florida's aggressive driving statutes, and could result in fines and points on your license. Aggressive driving could also result in legal liability for any injuries or property damages that occur in the event of a car accident involving other drivers.
Avoiding Aggressive Drivers On The Road
Based on surveys by the American Automobile Association (AAA), nearly 80 percent of all drivers admit to getting angry and exhibiting some type of aggressive and hostile behavior on the road at some time over the past year. You can help prevent aggressive driving accidents from occurring by monitoring your own behavior, and by knowing how to deal with any aggressive drivers you encounter on the road. To protect yourself and your passengers, the AAA recommends doing the following:
Stay calm: Do not fight aggressive behavior with aggression. It will only escalate the situation.
Avoid eye contact: Do not give dirty looks, make hand gestures, or engage in any other type of confrontational actions.
Maintain your safety: Give aggressive drivers plenty of space, and do not prevent them from trying to pass you. Allow extra time to apply the brakes in case they cut you off, and do not hesitate to pull over in a safe location or to take the nearest exit to protect your safety.
Our Bradenton Car Accident Attorney Is Here To Assist You
When car accidents and injuries do occur, contact our Bradenton car accident attorney. At the Law Office of Steven G. Lavely, we are here to assist you, providing professional legal representation so you can get the compensation you need to recover.  Call or contact us online and request a free consultation today.
Resources:
iii.org/fact-statistic/aggressive-driving
exchange.aaa.com/safety/driving-advice/aggressive-driving/#.WVfi28MrK00