Statistics Rank Florida Highest In the National for Pedestrian Accident Claims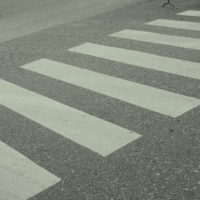 Florida's temperate climate and flat terrain are ideal for walking. Unfortunately, Florida is also one of top states in the nation for pedestrian accidents and injuries to occur. In St. Petersburg, Bradenton, and the surrounding areas, these accidents are a common occurrence, leaving victims with injuries that are potentially debilitating and, in some cases, life threatening.
Whether you enjoy walking as a means of transportation or for health and recreational purposes, it is important to be aware of the unique dangers residents of our state face, as well as how injury claims by pedestrians can help offset the various costs involved when an accident does occur.
Florida Pedestrian Injury Facts
Any time you are out walking it is important to remain alert and to practice caution to prevent accidents and injuries from occurring. Pedestrian accidents can happen anywhere and for a variety of reasons, which include:
Reckless and illegal behaviors on the part of drivers, such as running red lights, driving while distracted, or driving under the influence.
Traffic conditions and road factors, such as a shortage of traffic signals or crosswalks at intersections, inappropriately high speed limits, and lack of sidewalks and walkways.
Smart Growth America is a leading non-profit which aims to help develop safer, more effective transportation systems. Based on accident statistics and claims by pedestrians, they make recommendations on how states, cities, and counties can improve conditions and reduce the overall number of accidents and injuries. According to their latest statistics, Florida ranked highest in the nation for pedestrian accidents in 2016. To be sure, the top ten most dangerous cities for these accidents to occur included the Tampa/St. Petersburg/Clearwater and the Sarasota/Bradenton area.
Injury Claims By Pedestrians
With little to protect them in accidents involving motor vehicles, injuries to pedestrians can be severe. The Centers for Disease Control and Prevention (CDC) reports that as many as 150,000 people receive care in hospital emergency rooms each year as the result of pedestrian accidents in the U.S., while close to 5,000 others die as a result of their injuries. Common types of injuries include:
Broken bones and multiple fractures;
Severe cuts and lacerations;
Internal bleeding and damage to bodily organs;
Spinal cord injuries;
Severe head injuries, including concussion and traumatic brain injury.
In the aftermath of a pedestrian accident, you may be entitled to file an insurance claim against the driver or other at fault party. Unfortunately, these claims may not include compensation for ongoing disabilities you may suffer or for the pain and suffering you endured.
Reach Out to Us for Professional Help
Before making any statements to an insurer or settling for less than what you deserve, contact the Law Office of Steven G. Lavely first. We may be able to help gather evidence in your case and negotiate with the insurer on your behalf. In the event a settlement cannot be reached, we can advise you on your rights in a personal injury claim. Call or contact our Florida pedestrian accident attorney online today to request a free consultation in our Bradenton or St. Petersburg office.
Resources:
smartgrowthamerica.org/dangerous-by-design/
cdc.gov/motorvehiclesafety/pedestrian_safety/