Spring Break Car Accidents In Bradenton: How To Reduce Your Risks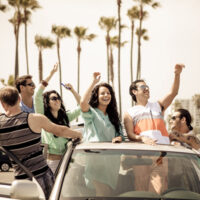 Large numbers of young people descend on our area each year for spring break. Unfortunately, this often translates into an increased risk for car accidents in Bradenton. Find out more about why they happen and how to reduce your risks. 
Being A Top Spring Break Destination Creates Risks 
A March 24, 2022 Yelp article listed the most popular spring break destinations for this year, based on searches of hotels, restaurants, and other attractions in different areas. It comes as no surprise that Bradenton was at the top of the list. Offering easy access to beaches, water sports, resorts, and nightlife, young people flock here in large numbers each year. Unfortunately, this can create risks for them, other vacationers, and local residents.
Car accidents typically spike during spring break. There are also increased risks when it comes to pedestrian, bicycle, motorcycle, and boating accidents. Reckless driving behaviors that make all these types of crashes more common include:
Distracted driving, which includes texting or making cell phone calls, taking pictures or videos, and paying more attention to crowds and local sights than to the road;
Driving under the influence, which may involve alcohol or recreational drugs;
Drowsy driving, which is common and mimics the same effects as being drunk behind the wheel;
Disregarding traffic rules and regulations, such as speeding, tailgating, failing to yield, and running red lights or stop signs.
Protecting Yourself Against Spring Break Car Accidents In Bradenton
Statistics from the Florida Department of Highway Safety and Motor Vehicles (FLHSMV) indicate that car accidents are more common among young people under age 30 than any other age group and they are also the ones most likely to be involved in alcohol-related crashes. Crash counts tend to spike during the months of March and April, largely due to spring break crowds.
Young people visiting Bradenton for spring break are encouraged to take steps to protect themselves. This includes balancing activities to avoid exhaustion, avoiding drugs or excess alcohol consumption, and relying on services such as taxis and Uber or Lyft rather than driving, biking, or even walking in unfamiliar areas or while under the influence. For residents and other visitors in our area, it is important to take certain precautions as well:
Be cautious driving at night, when most alcohol-related car accidents happen.
Give other drivers plenty of room on the road, particularly if they are speeding, tailgating, or engaging in other dangerous behaviors.
Pay close attention at all times behind the wheel and expect the unexpected, particularly when traveling through densely crowded tourist areas.
When walking and riding bikes, never assume a driver sees you or will stop. Use bike paths/lanes and cross only at designated intersections. 
When Injuries Happen, Our Bradenton Car Accident Attorney Is Here To Help
The Law Office of Steven G. Lavely is here to help residents and visitors to our area who are injured in spring break car accidents. To request a consultation regarding your rights in filing a claim, give us a call or contact our Bradenton car accident lawyer online today.
Source:
blog.yelp.com/community/yelp-names-top-spring-break-travel-destinations-for-2022/