Safety Tips for Preventing Car Accident Injuries Among Children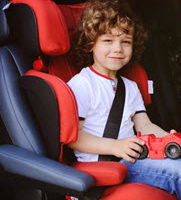 With children out of school, parents are likely to be chauffeuring young ones back and forth between activities. Whether you are driving somewhere local or heading out on a more extended trip, it is important to take the necessary precautions to protect your children against car accidents and injuries. Small bodies are vulnerable in even the most minor of incidents, but the following offers some tips you can follow to help keep them safe.
The Impact of Car Accidents on Children
Motor vehicle accidents are an unfortunately common occurrence, and children are often unwitting victims in these crashes. According to the Centers for Disease Control and Prevention, motor vehicle accidents are one of the leading causes of death and disability among those 12 years old and younger, with more than 120,000 children suffering potentially life threatening injuries as the result each year. Common types of injuries:
Severe cuts, burns, and abrasions;
Dislocated joints and multiple fractures;
Neck injuries, such as fractured vertebrae and whiplash;
Abdominal injuries, which can cause internal bleeding and damage to body organs;
Head trauma, resulting in skull fractures, concussion, and other traumatic brain injuries (TBI);
Spinal cord injuries, resulting in partial or complete paralysis.
While children are known for their ability to bounce back after being hurt, the fact is that any of the above can result in scarring, permanent disfigurement, and ongoing impairments. The bumps, blows, and jolts that occur during a crash make head injuries particularly common, and can result in your child suffering serious developmental disabilities that follow them for years into the future.
Protecting Your Child Against Car Accident Injuries
Car accident injuries among children are often preventable, which is what makes these cases so tragic. Driving the speed limit, obeying traffic rules and regulations, and keeping your eyes on the road all reduce the risk that an accident will occur. Unfortunately, you cannot control the behaviors of others on the road, which is why it is important to take additional steps to ensure your child is protected. The Insurance Institute For Highway Safety (IIHS) recommends the following:
Have children younger than thirteen sit in the back seat;
For children under the age of 2, use a rear facing child car seat;
For those between the ages of 2 and 7, use a forward facing seat with harness restraints;
Insist that children over 7 and any other passengers in the car wear a seat belt at all times.
In the event a car accident does occur get your child medical attention immediately, even if the accident is minor or they are not exhibiting symptoms.
Let Us Help You Today
Ensuring the health and safety of your children is your number one priority, and our Bradenton car accident attorney is here to help protect them when crashes or collisions occur. To discuss your case and how you can hold responsible drivers accountable when an accident does occur,  contact the Law Office of Steven G. Lavely and request a consultation today.
Resources:
cdc.gov/motorvehiclesafety/child_passenger_safety/cps-factsheet.html
iihs.org/iihs/brochures/keeping-children-safe