Reduce Car Accident Risks When Driving During Hurricane Season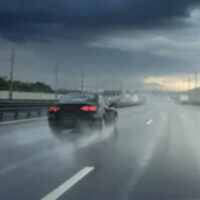 The hurricane season runs from early summer to late fall in Florida, but local residents know the heaviest downpours typically happen throughout July and August. Driving through summer storms is nerve-wracking for even the most experienced drivers and increases your risks of car accidents in Bradenton. The following tips can help keep you and your passengers safe.
Take Extra Precautions To Prevent Car Accidents In Bradenton During Summer Storm Season
Afternoon storms are common in Bradenton throughout July and August. Even when not related to a hurricane or tropical storm, these downpours can wreak havoc on the roads, increasing car accident risks. Your response to the weather can help to prevent crashes and collisions that can cause serious personal injuries for you and your passengers. The Florida Department of Highway Safety and Motor Vehicles (FLHSMV) recommends taking the following precautions:
Slow down: Even lighter rains can make roads slick, making it harder to navigate turns or respond to sudden changes in traffic conditions. During and immediately after a downpour, make sure to adjust your speed and allow plenty of time to reach your destination.
Give other motorists plenty of space: Be aware that other drivers are more likely to make mistakes or suffer adverse events, such as skidding, during downpours. Allowing plenty of room between you and other drivers can help prevent collisions.
Use your wipers and headlights: Visibility is a major issue during heavy rains. Make sure your windshield wipers are in good condition and use whatever setting is needed to provide a clear view of the road. Using your headlights makes it easier to see and ensures other drivers see you.
Be cautious at intersections: Heavy rains can make traffic signals inoperable. Be prepared for this at intersections and take turns with other motorists. At the same time, be on the lookout for drivers who ignore this practice and rush headlong into traffic.
Take another route if water is pooled on the road: Follow the saying ''turn around and don't drown'. Roads in Bradenton can flood with only minimal rains and it is impossible to accurately estimate the depth of most puddles. Even a few inches of water can be enough to disable or even sweep away your vehicle. Rather than risk it, find an alternate route.
The FLHSMV previously advised drivers that it was against the law to use hazard lights (or blinkers) when driving in heavy rains. However, the Bradenton Herald reports that this was overturned recently and drivers can now take this extra precaution during severe weather effective July 2021.
Let Us Help You Today 
The rainy summer months are one of the most dangerous times of year for car accidents in Bradenton. If you are injured in a crash or collision, reach out to our Bradenton car accident attorney. At the Law Office of Steven G. Lavely, we are dedicated to helping you get the compensation you need to recover. Call or contact our office online to request a consultation today.
Resource:
bradenton.com/news/business/article251797118.html