Recovery From Concussion After A Bradenton Car Accident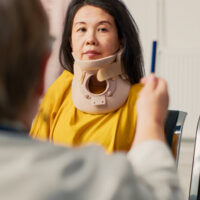 Car accident injuries in Bradenton have the potential to be severe. Even a seemingly minor crash could cause symptoms that impact you for long months after. This is particularly true in the event of concussions. While symptoms of these injuries may not be immediately obvious, they can end up causing long-term disabilities. Our Bradenton car accident lawyer explains common warning signs, long-term impacts, and how to get the compensation you need to recover.
Warning Signs of Concussion
National Concussion Awareness Day is September 15, 2023. An annual event, it aims at making the public more aware of how concussions commonly happen and warning signs to be alert for. Car accidents are one of the leading causes.
When any type of crash happens, drivers, passengers, bicyclists, and pedestrians involved may suffer a concussion as a result. These injuries can occur due to any type of bump, blow, or sudden jolt to the head, which disrupts neural pathways. Symptoms are often subtle at first but could cause long-term impairments. Warning signs to be alert for include:
Loss of consciousness, even just for a few seconds;
Feeling dizzy or disoriented;
Memory loss, particularly regarding details surrounding the accident;
Severe headaches;
Ringing in the ears and blurred vision;
Nausea and vomiting;
Difficulty standing and walking;
Trouble communicating or understanding what others are saying.
Get The Compensation You Need to Recover From Concussion Injuries In Bradenton
The Centers For Disease Control and Prevention (CDC) warns that even a seemingly minor concussion can have long-term impacts on the victim's health and may result in physical, emotional, and cognitive impairments. To protect your health and your rights to compensation, report any type of crash in which a concussion is suspected to police immediately and seek medical attention right away.
Car accidents in Bradenton are often caused by reckless and negligent behavior on the part of other motorists involved. You have the right to hold them liable for concussion-related impacts you suffer as a result. Compensation may be available either through insurance policies the at-fault driver has in place or by filing a lawsuit against them through the Manatee County Civil Court. Common types of compensation available in a concussion claim include:
Payment for all current and future medical expenses associated with your injuries, including testing, treatment, follow-up care, and physical or occupational rehabilitation;
Reimbursement for all lost wages and payment for any future lost income and benefits likely to result from your injuries;
Additional amounts that compensate you for pain, suffering, and lost enjoyment in life due to current and ongoing impairments.
Contact Our Bradenton Car Accident Lawyer Today
At the Law Office of Steven G. Lavely, we help victims get the compensation they need to recover from concussion injuries in Bradenton. As one of only a small percentage of board-certified trial attorneys in Florida, you can count on us to provide the caring support and professional legal representation needed in these types of claims. Call or contact our Bradenton car accident lawyer online and request a consultation today.
Sources:
nationalconcussionawarenessday.com/index.html
cdc.gov/headsup/basics/concussion_symptoms.html
manateeclerk.com/