Recovery From Car Accident Back And Neck Injuries In Bradenton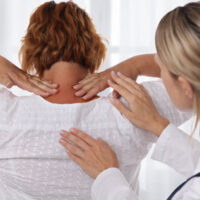 Back and neck injuries are a leading cause of chronic pain and long-term disabilities. They can happen due to a variety of causes, but one of the most common is car accidents. Our Bradenton car accident lawyer explains more about back and neck injuries and the recovery process.
Back And Neck Injuries Caused By Car Accidents In Bradenton
If you suffer back or neck pain, you are not alone. According to the National Spine Health Foundation, more than 100 million people in the U.S. seek treatment for it each year. Car accidents are among the most common causes.
Any type of crash or collision can cause back or neck injuries. While symptoms are not always immediately obvious, they are likely to worsen in the weeks or months after. Florida Physical Medicine reports that common types of back and neck injuries caused by car accidents include:
Whiplash: This occurs frequently in rear end collisions, where the force of impact causes the head and neck to whip violently back and forth.
Broken bones: Pelvic, hip, and shoulder bone fractures suffered in a crash can lead to potentially debilitating back pain.
Musculoskeletal injuries: Even a minor collision can impact the nerves, vertebrae, spinal joints, and other supporting structures in the back and neck.
Herniated discs: One of the most common types of back injuries, herniated discs are slow to heal and can cause ongoing health problems.
Recovering From Back And Neck Injuries
If you are involved in a car accident in Bradenton, notify the police immediately., Exchange contact and insurance information with the other driver, and seek medical care as soon as possible. Report symptoms of back and neck injuries you suffer in the days, weeks, or months after. The Mayo Clinic advises that these are likely to include a dull, sharp, or burning pain, numbness and tingling in the extremities, stiffness throughout the body, and reduced mobility.
When you are injured in a car accident in Bradenton due to the reckless behavior of others, you are entitled to compensation for medical expenses, lost wages, and other costs you incur. To protect your rights in a claim, follow these steps as part of the recovery process:
Attend regular doctor visits and follow recommendations regarding testing, treatment, and medications;
Adhere to instructions regarding work and other activity restrictions;
Keep copies of all medical records, test results, and statements showing lost wages;
Avoid downplaying your injuries when dealing with insurers;
Think twice before accepting an immediate settlement, as this will likely be for less than the total amount you deserve.
Contact Our Bradenton Car Accident Lawyer
Back and neck injuries that occur due to car accidents in Bradenton can end up impacting your health, mobility, and overall quality of life for years into the future. To get the total amount you need to recover from your injuries, contact the Law Office of Steven G. Lavely. Request a consultation with our experienced Bradenton car accident lawyer today.
Sources:
spinehealth.org/article/neck-and-back-pain-burden/#:~:text=The%20burden%20of%20neck%20and,million%20Americans%20reportedly%20suffering%20annually.
floridaphysicalmedicine.com/back-neck-injuries-car-wrecks/
mayoclinic.org/diseases-conditions/whiplash/symptoms-causes/syc-20378921