Reckless Behaviors of Other Motorists Leading Cause of Motorcycle Accident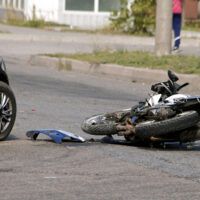 With little to protect them against collisions with other motorists, motorcyclists are among the most vulnerable road users. Unfortunately, the actions of other drivers are one of the leading causes of motorcycle accidents. This can often be attributed to reckless behaviors on the part of motorists and the fact that many drivers lack knowledge or awareness of the ways motorcycles react differently than cars. When crashes do occur, these drivers can be held accountable for the harm bikers and their family members suffer as a result.
Failure to Yield Causes Fatal Motorcycle Crash in Bradenton
According to an October 10, 2019 news report by the Bradenton Herald, a local biker was killed recently as a result of a collision involving an SUV. The crash occurred shortly before noon on a weekday on Cortez Road, east of 39th Street West. Witnesses at the scene claim the SUV driver was traveling west when he failed to yield and made a u-turn, striking the 50-year-old motorcyclist in the process.
Lack of respect for motorcyclists and their rights on the road is an unfortunately common factor in motorcycle accidents. In cases such as the above, automobile drivers often fail to factor in how their inconsiderate and often illegal actions impact others, particularly bikers. Other common types of reckless driving behaviors which put motorcyclists at risk include:
Tailgating and following too closely;
Improper passing and cutting off bikers on the road;
Weaving in and out of lanes, forcing bikers to swerve to avoid being hit;
Stopping suddenly in front of a biker, giving them little time to respond;
Failing to yield right of way or to give bikers their turn at intersections, in parking lots, and at highway entrance or exit ramps.
Precautions to Prevent Motorcycle Accidents
The Insurance Information Institute (III) reports that more than 5,000 bikers are killed in fatal motorcycle accidents each year, many of which are caused by the actions of other drivers. As motorcycling has increasing becomes a more popular hobby and efficient means of transportation over the years, the numbers of crashes has continued to climb.
In Bradenton and other areas along the coast, the climate and terrain make it the perfect spot for local bikers and those visiting from other areas. However, there is also a significant amount of motor vehicle traffic, meaning that motorcyclists need to take extra precautions:
Always be aware of other vehicles on the road;
Put plenty of space between you and drivers who act aggressively;
Keep your distance when navigating curves and when making turns;
Always signal when stopping or turning to alert other drivers to slow down;
If a driver is tailgating you, avoid confrontation and switch to another lane;
Wear a helmet and other protective gear to reduce your risks in the event of a collision.
Let Us Help You Today
When the actions of other motorists leave you suffering serious injuries, the Law Office of Steven G. Lavely can help you hold them accountable. Call or contact our Bradenton motorcycle accident attorney online to request a consultation today.
Resource:
bradenton.com/news/local/article235978702.html
iii.org/fact-statistic/facts-statistics-motorcycle-crashes
https://www.lavelylaw.com/fatal-bradenton-motorcycle-accident-highlights-safety-concerns/