Proving Your Injuries After A Car Accident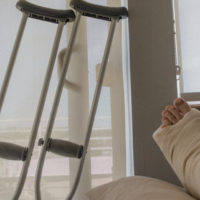 Car accidents are sudden, jarring events. Even in a seemingly minor crash or collision, the unexpected jolt can leave you bruised, limiting your movements and causing you pain. In the aftermath of an accident, it is crucial to get medical care immediately and to document your injuries and the symptoms you experience. This plays an important role in filing your car accident claim, and helps ensure you get the maximum amount you are entitled to.
In the Immediate Aftermath of a Car Accident
According to the latest statistics from Florida's Integrated Report Exchange System (FIRES), more than 387,000 car accidents occurred in our state during 2017, resulting in close to 250,000 injuries. Whenever you are involved in any type of car accident, it is important to notify law enforcement, exchange information with other drivers, and get medical attention as soon as possible. Even if you think your injuries are minor, you should report it to your doctor and follow their instructions. To protect your rights to compensation in a car accident insurance claim, follow these tips:
Get the names of the doctors, nurses, and diagnostic technicians you see if you are treated at the hospital or urgent care center.
Be thorough in explaining your accident and the damage to your vehicle This can give medical providers clues on injuries to look for.
Report all of your symptoms, even if they are mild or you think they are unrelated to your accident.
Follow all discharge instructions, including any work or activity restrictions.
Take any medications prescribed and make sure to follow up with your regular doctor within the recommended period.
Documenting Your Injuries
When dealing with insurance company representatives, you will be expected to provide evidence of your injuries. This will include medical records from the doctor's office or hospital, as well as statements from your care providers. It is important to gather as much additional documentation of your injuries as possible. Items which may prove helpful include the following:
Photos of your injuries, both immediately after the accident and as you heal.
A journal chronicling doctor appointments, treatments, medications, and the symptoms you suffer. Make sure and note activities that are challenging or those you are unable to engage in.
Discharge papers, lab results, and any type of paperwork you are given by your doctor, pharmacist, or other provider.
Receipts for hospital stays, treatments, medications, and any medical devices you require.
Pay stubs showing lost wages and any correspondence from your employer regarding your injuries.
Transportation receipts, showing costs to and from doctor appointments.
Reach Out to Us Today for Help
Gathering evidence in support of your case helps to prove your injuries so you get the maximum amount of compensation you need to recover. In these situations, our experienced Bradenton car accident attorney is here to help. For professional legal guidance in filing your claim and negotiating a settlement, call or contact the Law Office of Steven G. Lavely online to request a free consultation today.
Resource:
firesportal.com/Pages/Public/QuickStats.aspx