Protecting Children Against Bicycle And Pedestrian Accidents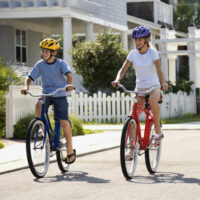 Rather than sitting inside staying at a computer screen or wasting time on video games, parents often encourage their children to go outside to play. Riding bikes and meeting friends at local parks can be fun and healthy, but it is important to be aware of the risks. Bicycle and pedestrian accidents involving children are unfortunately common and can result in serious personal injuries. Two separate incidents in Bradenton that occurred over the course of one week highlights the potential hazards.
Two Children Struck By Cars In Bradenton
Two children were recently struck by cars in Bradenton, one while riding their bike and the other after running into the street. According to a December 6, 2021 Bradenton Herald news report, the first incident occurred at the 2300 block of 5th Street West. Police reports indicate a 9-year-old was struck by a passing motorist on the prior Thursday afternoon while playing on or near the street. He was airlifted to Johns Hopkins All Children's Hospital as a precaution but did not suffer any serious injuries.
The second incident happened just a week later, as a 10-year-old was riding his bike through a crosswalk near Sorrento Woods Blvd. A 71-year-old SUV driver failed to stop prior to entering the crosswalk and collided with the child, who was transported to Sarasota Memorial Hospital and is expected to make a complete recovery from his injuries. In both cases, the victims involved were fortunate. Due to their small size, bicycle and pedestrian accidents involving children often result in potentially disabling and even life threatening personal injuries.
Protecting Children Against Pedestrian And Bicycle Accident Injuries
Children are among the most at risk for both pedestrian and bicycle accidents. According to the Centers For Disease Control and Prevention (CDC), they account for more than a third of all victims each year and the injuries they suffer are often severe. Parents are urged to teach children road safety and should share with them the following tips:
Whether walking or biking, always look both ways before entering the road;
Never assume a driver sees you or will stop;
Make use of sidewalks and crosswalks;
Avoid heavily congested areas;
Avoid distractions, such as ear buds, which could cause you to not hear car horns or warnings of an impending crash;
Avoid walking or riding bikes after dark.
Even a seemingly minor bicycle or pedestrian accident can result in serious personal injuries. As a parent, you have the right to hold the at-fault driver accountable. Make sure to report any incidents to the police immediately, ask your child for a description of the driver and their vehicle, and make note of exactly where the accident happened and whether there were any witnesses at the scene.
Reach Out to Us Today for Help 
Children's injuries caused by bicycle and pedestrian accidents can end up impacting them for years into the future. At the Law Office of Steven G. Lavely, we help you get compensation in a claim. Call or contact our Bradenton child injury attorney online and request a consultation today.
Source:
bradenton.com/news/local/traffic/article256372862.html