Program Targets Florida Pedestrian and Bicycling Accidents In Our Area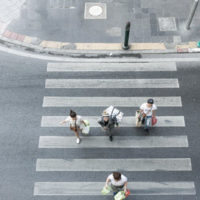 While walking and riding a bike provide an excellent way to get where you need to go and to stay fit, there are definite dangers associated with both activities. Pedestrians and bicyclists are among the most vulnerable road users in our area, and when accidents and injuries do occur, they tend to be severe and often life threatening. As officials in Florida attempt to aggressively address the problem through a variety of public service programs, it is important to be aware of what you can do to protect yourself and those you love.
Florida Pedestrian and Bike Accident Prevention
The Florida Pedestrian and Bicycle Focused Initiative is a program sponsored through the state Department of Transportation (FDOT). It works to help raise public awareness of the potential dangers bicyclists and pedestrians face, while addressing issues which cause accidents and injuries to occur.
Through research and data collected from law enforcement and state officials, the program has identified the top 20 counties in the state where pedestrians and bicyclists are most at risk for accidental injuries, and the Bradenton/St. Petersburg area is near the top of the list. Factors attributed by the FDOT in making pedestrian and bike accidents more common in these areas include:
Areas with poor lighting and visibility issues;
Public transit stop locations which put riders at risk;
Lack of sidewalks and bike lanes along roads and highways;
Lack of crosswalks in intersections or mid block crossings;
Multi-lane highways and wide road lane widths that are dangerous to cross.
Addressing these conditions through local infrastructure improvements is just one area in which the program seeks to improve safety for pedestrians and bicyclists. Other efforts include increasing law enforcement efforts to stop motorists who engage in dangerous conduct such as speeding, driving under the influence, and distracted driving, while coordinating better emergency response times when accidents do occur.
How You Can Protect Yourself
While better traffic lights, signalling at intersections, and designated bike paths and sidewalks go a long way towards increasing pedestrian and bicyclist safety, the FDOT program encourages residents to be aware of steps they can take on their own to protect themselves. These include:
Wearing bright, light colored clothing to increase visibility;
Using extra caution at night, which includes using reflective tape and carrying a flashlight or using bicycle head lights;
Avoiding the use of alcohol or any substance which could impair your judgement when walking or biking;
Obeying all traffic rules for bicyclists and pedestrians;
Using only designated sidewalks or bike paths;
Crossing only at designated crosswalks or intersections.
What To Do If A Bicycle or Pedestrian Accident Occurs
If an accident does occur, notify the police immediately and gather as much information about the driver as possible. Even if the accident seems minor, seek medical attention for their injuries. Contact the Law Office of Steven G. Lavely before making any statements to an insurance company or signing any documents. Our Florida accident attorney can help protect your rights, while assisting you in getting the compensation you need to recover. Call or contact us online to request a consultation in our Bradenton or St. Petersburg office today.
Resources:
alerttodayflorida.com/pbssp.html
fdot.gov/design/Training/DesignExpo/2015/presentations/FloridasBicyclePedestrianFocusedInitiative-TrendaMcPherson.pdf