Preparing For Hurricane Season: Preventing Car Accidents In Bradenton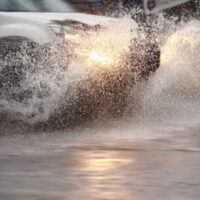 Hurricane season starts in the summer, but the early fall months are often when the most activity happens. Driving rains and heavy winds are routine threats at this time of year. Many residents routinely take precautions to protect themselves, such as securing their property and making sure they have adequate supplies. Car accidents are more likely to happen under these conditions as well. Our Bradenton car accident lawyer offers tips that can help protect drivers and their passengers as well. 
Be Aware of The Risks
One of the first steps in being prepared for what may end up being an active hurricane season is being aware of the risks. According to the Federal Highway Administration (FHWA), adverse weather is a contributing factor in more than 20 percent of all car accidents. Rainy, wet conditions are particularly dangerous and can have the following impacts on driving abilities:
Reduced tire traction, making skidding and losing control of your vehicle more likely;
Reduced brake function, impacting your ability to make sudden stops;
Less responsive steering, impacting your ability to swerve and avoid dangerous situations;
Decreased visibility, making it harder to see the road or other vehicles and resulting in increased glare.
In any type of rainy or wet conditions, remember to go slow and allow plenty of time to reach your destination. Check forecasts prior to trips, including expected weather anywhere you are traveling.
Protecting Yourself Against Car Accidents During Hurricane Season
In addition to being aware of the risks regarding weather-related car accidents, be aware of the odds regarding hurricanes in our area. The National Oceanic and Atmospheric Administration (NOAA) is an accurate source of information and predicts an active 2022 hurricane season. Check forecasts and warnings about what to expect. Other tips that can help keep you safe include:
Pay close attention to local forecasts, including emergency broadcast radio stations, which are often needed when power fails;
Make sure your vehicle is properly maintained and keep a full tank of gas at all times;
Have emergency supplies packed in your trunk, including tools, water, a flashlight, and a phone charger;
If an evacuation order is issued, aim to leave as early as possible;
Stick to main roads during storms, and avoid bridges;
Go prepared for heavy traffic and unexpected stops;
Take turns at intersections where lights are out;
Avoid traveling during heavy rains or winds if at all possible.
Remember the saying, "Turn around, don't drown" as well. Local roads can get washed out during storms and it is impossible to tell whether there is any damage or how deep water is merely by looking at puddles. Better to bypass these completely, as even minor flooding could carry away your vehicle.
Reach Out To Our Bradenton Car Accident Lawyer
At the Law Office of Steven G. Lavely, we hope these tips help to reduce car accident risks this hurricane season. If a crash or collision does occur, reach out for help in getting the compensation you need to recover. Call or contact our Bradenton car accident lawyer online to request a consultation.
Sources:
ops.fhwa.dot.gov/weather/q1_roadimpact.htm#:~:text=Weather%2Drelated%20crashes%20are%20defined,pavement%2C%20or%20icy%20pavement).
noaa.gov/news-release/noaa-predicts-above-normal-2022-atlantic-hurricane-season