Pick-Up Trucks Pose Serious Hazards For Pedestrians In Bradenton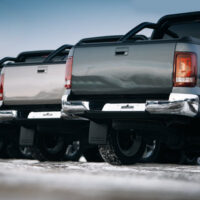 Pick-up trucks are one of the most popular types of vehicles. Owners appreciate the extra space for hauling furniture, yard waste, construction materials, or other items not suited to be transported in a car. While they do come in handy, they also pose considerable hazards. In the aftermath of a recent pick-up truck/pedestrian accident that left three children injured, our Bradenton truck accident lawyer wants you to be aware of the risks.
Three Girls Injured In Pedestrian/Truck Accident In Bradenton
Three young girls suffered serious personal injuries after being injured in a pick-up truck accident in Bradenton recently. According to a November 4, 2022 news report by the Bradenton Herald, the crash happened at 4:30 p.m. south of 33rd Avenue East, near the 3300 block of 15th Street East.
Witnesses say the three girls, aged 9, 11, and 15, were running across the street from the driveway of Samoset Car Wash. They crossed the southbound lanes safely but upon entering the northbound lanes, they were struck by a driver in a Ford F-150 pickup truck. While the driver swerved and slammed on his brakes, running the truck off the road in the process, he could not avoid hitting the children. All three were transported to All Children's Hospital, but are expected to recover. Police are continuing to investigate the crash but, as yet, have not pressed any charges against the driver.
Pick-Up Trucks Blamed For Increase In Pedestrian Accident Rates
The Insurance Institute for Highway Safety (IIHS) reports an alarming increase in pedestrian accidents in recent years and says pick-up trucks are partly to blame. As automotive manufacturers add attractive features such as extra seating, consumers are rushing to invest in these types of vehicles, which can cost $60,000 or more. However, many are unaware of the potential risks.
Pick-up trucks (as well as SUVs, which are also increasingly popular) weigh more than other cars, are considerably longer, and sit higher from the road. This poses serious hazards, which include:
Lack of maneuverability: Their size makes them more difficult to maneuver in traffic that other vehicles;
Longer brake times: Due to both their size and weight, it takes pick-ups longer to brake and impacts their ability to make sudden stops;
Decreased visibility: The same as with taller trucks, pick-ups have bigger blind spots than other vehicles, particularly in the front of the vehicle.
These factors increase car accident risks, but can be particularly dangerous for pedestrians. When a pedestrian/pick-up truck accident in Bradenton does occur, it is also more likely to result in serious personal injuries.
Injured In A Pick-Up Truck Accident? Reach Out To Our Bradenton Truck Accident Lawyer
With the general increase in pick-up trucks on the road, it is important to be aware of accident risks. If you are injured in this type of crash, reach out to the Law Office of Steven G. Lavely. To request a consultation, call or contact our Bradenton truck accident lawyer online today.
Sources:
bradenton.com/news/local/traffic/article268259052.html#storylink=cpy
iihs.org/news/detail/suvs-other-large-vehicles-often-hit-pedestrians-while-turning