Pedestrian Injuries Leading Cause Of Injury Among Children and Teens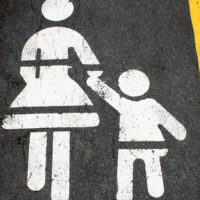 Accidents involving motor vehicles and pedestrians are an unfortunately common occurrence in Florida. Children are among those most frequently involved in these accidents, and as the school year starts up, it is important for parents to be aware of the risks. Pedestrian accidents are one of the leading causes of serious, potentially life threatening injuries among both young children and teens, and knowing the facts can help you better ensure their safety.
Children and Back To School Pedestrian Accidents 
Whether your child walks to school regularly or simply walks to the local school bus stop, the National Safety Council (NSC) urges parents to sit down with their children as the school year starts to refresh them on tips concerning pedestrian safety. Pedestrian accidents are the second leading cause of accidental death among children between the ages of five and 14, and a common cause of severe and potentially disabling injuries. To protect them, emphasize the importance of adhering to the following safety rules:
Always use designated crosswalks when crossing streets and intersections.
Make eye contact with drivers to ensure they see you before stepping into the road.
Use sidewalks when possible, otherwise walk facing traffic.
When crossing driveways or parking lots, be aware of cars pulling in or backing up.
Never step or run into the street from between two parked cars.
Use bright or reflective clothing to increase visibility.
For additional protection, parents should accompany young children, while having older ones walk in groups or pairs. If you notice cars speeding or disobeying traffic signals in your neighborhood or near bus stops, notify local police and your school administrator.
Protecting Teenagers
Small children are not the only ones needing protection walking to and from school. According to the latest statistics from SafeKids.org, children between the ages of 15 and 19 account for more than half of all child pedestrian accident injuries and deaths. Walking while distracted is a common factor in these accidents, and the use of smartphones and other electronic devices is often to blame.
In addition to talking on cell phones, taking pictures, listening to music, and posting on social media, teenagers send out anywhere between 30 to 50 text messages a day. They often fail to pay attention when walking to and from school or to after school jobs, making pedestrian accidents and injuries more likely to occur. As the result of being distracted, they may be more likely to do the following:
Stumble or wander off sidewalks and into the path of traffic;
Fail to look both ways or pay attention to traffic signals when crossing the street;
Get hit by cars entering and exiting driveways and parking lots;
Not notice signs of an impending accident, such as the sound of car horns or screeching tires.
If your child or teen is injured in a pedestrian accident, contact the Law Office of Steven G. Lavely right away. We can arrange a free consultation with our Bradenton pedestrian accident attorney, who can provide professional legal guidance to help you get the compensation your child needs to recover. With so much at stake, call or contact us online to request your consultation today.
Resources:
nsc.org/NSCDocuments_Corporate/First-Student/Pedestrian-safety.pdf
safekids.org/sites/default/files/documents/pedestrian_safety_fact_sheet_2016.pdf