Pedestrian Crosswalk Accidents In Bradenton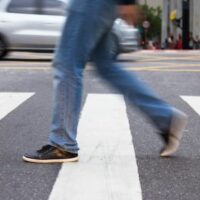 Pedestrians are among the most vulnerable road users. Crossing heavily-traveled streets is particularly dangerous. Crosswalks are designed to protect them and help prevent pedestrian accidents in Bradenton. However, when drivers fail to yield, serious and potentially life-threatening personal injuries can result. Our Bradenton pedestrian accident lawyer shares about a recent, tragic incident and the steps everyone can take to prevent these types of crashes.
Local Man Killed In Alleged Pedestrian Crosswalk Accident In Bradenton
A local resident was recently killed in what is alleged to be a tragic pedestrian crosswalk accident in Bradenton. According to a July 17, 2022 news report by the Bradenton Herald, it happened at an intersection on U.S. 301 on a recent Saturday night.
Florida Highway patrol states that the victim, a 31-year-old Bradenton man, was attempting to cross the intersection at roughly 10:30 p.m. when he was struck by a passing car traveling in the left, southbound lane. The driver, a 37-year-old local resident, and two passengers were in the vehicle at the time. All of them suffered only minor injuries in the crash. Sadly, the pedestrian who was struck died at the scene.
Police are continuing to investigate the circumstances surrounding the case and have not revealed whether any charges will be filed in the crash. They are trying to determine whether the victim was actually in the crosswalk at the time of the incident or if he had crossed at another, unmarked location.
Crosswalks Designed To Protect Pedestrian Safety
Under the Florida Statutes, pedestrians have the same rights as any other road users. However, with little to protect them, they are particularly vulnerable when it comes to car accidents. Crosswalk laws are designed to protect them and allow them to safely cross busy streets.
Pedestrians are encouraged to only cross at designated intersections and can be cited for jaywalking for failing to do so. They should look both ways before entering a crosswalk and never assume a driver sees them or will stop.
In regards to drivers, they are required to yield to pedestrians in crosswalks and can face serious penalties for failing to do so, including heavy fines and points on the drivers license. To reduce pedestrian accident risks and the legal liability that results, the National Highway Traffic Safety Administration (NHTSA) recommends following these tips:
Look at for pedestrians everywhere, not only in crosswalks;
Use extra caution when driving at night, in adverse weather, or in other conditions that reduce visibility;
Be prepared to slow down and come to a complete stop, if needed, when approaching crosswalks;
Never pass other vehicles currently stopped at a crosswalk;
Wait until the pedestrian has completed crossing the street before proceedings.
Contact Our Bradenton Pedestrian Accident Lawyer
At the Law Office of Steven G. Lavely, we protect the rights of pedestrian accident victims and their families, helping them get the compensation they need when accidents happen. Call or contact our Bradenton pedestrian accident lawyer online and request a consultation to discuss how we can help you today.
Sources:
bradenton.com/news/local/traffic/article263554868.html
leg.state.fl.us/statutes/index.cfm?App_mode=Display_Statute&URL=0300-0399/0316/Sections/0316.130.html
nhtsa.gov/road-safety/pedestrian-safety