Parking Lot Accidents Pose Major Risks During The Winter Season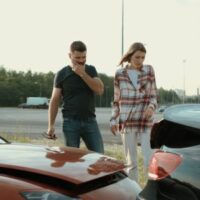 The winter season is here and local shopping malls and plazas are crowded with shoppers. Unfortunately, in the rush to get gifts, groceries, and other items needed to make this time of year more festive, it is easy to let your guard down when it comes to safety. Parking lot accidents are common and can result in serious personal injuries. Our Bradenton car accident lawyer shares tips to protect yourself.
Parking Lot Accidents in Bradenton Common At This Time Of Year
Parking lot accidents are often considered minor but can cause major problems over the winter season. According to the National Safety Council, tens of thousands of these crashes occur each year, resulting in serious injuries for drivers, passengers, and pedestrians.
Heightened crowds at stores make parking lot accidents in Bradenton more common during the winter season. They can happen while driving or walking through local lots, when pulling into or out of spaces, and when exiting on local roads. The NSC reports that common causes include distracted driving, speeding, and failing to adhere to traffic signals. To prevent being involved in this type of crash, take the following precautions:
Pay attention: When driving parking lots (or anywhere, for that matter) keep your eyes on the road and your mind one the task at hand. Avoid getting distracted by your thoughts, your passengers, or what is going on around you.
Take your time: Rushing to get to and from stores or to find the perfect space makes parking lot accidents more likely to happen. It also increases the severity of personal injuries if an accident does happen.
Obey traffic signs and signals: Pay attention to posted speeds in parking lots, follow lane directions, and use extra caution at stop signs and pedestrian walkways.
Look twice when pulling into or backing out of spaces: This is one of the most common situations for parking lot accidents to happen. Be alert for other drivers as well as pedestrians.
Follow These Steps If A Parking Lot Accident In Bradenton Happens
Parking lot accidents are often more than just minor fender benders. State Farm Insurance advises against downplaying these incidents, the damage to your vehicle, or personal injuries suffered as a result. To protect yourself and your rights in filing a claim, follow these steps if a parking lot accident in Bradenton happens:
Come to an immediate stop;
Notify law enforcement;
Get a description of the other driver and their vehicle;
Exchange personal contact and insurance information;
Get the names and contact information for witnesses at the scene;
Seek medical attention, regardless of the severity of your injuries;
Notify your insurer as soon as possible;
Consult with our Bradenton car accident lawyer before accepting any settlements.
Request A Consultation With Our Bradenton Car Accident Lawyer Today
Parking lot accidents can cause serious personal injuries and property damages. To get the compensation you need to recover, contact the Law Office of Steven G. Lavely. Request a consultation with our Bradenton car accident lawyer today.
Sources:
nsc.org/road/safety-topics/distracted-driving/parking-lot-safety
statefarm.com/simple-insights/auto-and-vehicles/how-to-deal-with-parking-lot-accidents