Pain And Suffering: Compensation For Post Traumatic Stress After A Bradenton Car Accident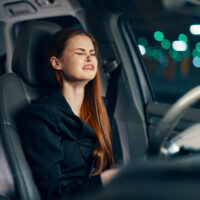 Car accident injuries can have major impacts on your physical health. They can prevent you from working or engaging in your usual hobbies and activities for months or even years after. Getting the compensation you need to cover your medical expenses, lost wages, and other tangible costs is important when filing a Bradenton car accident claim. However, there are other, intangible losses that can occur.
Post-traumatic stress is common in the aftermath of a crash. Our Bradenton car accident lawyer explains more about the troubling symptoms it can cause and your rights in seeking compensation for it as part of your claim.
Symptoms of Car Accident Post-Traumatic Stress
Statistics from the Florida Department of Highway Safety and Motor Vehicles (FLHSMV) show that close to 6,000 car accidents in Manatee County happen each year. These can leave victims suffering serious, potentially disabling personal injuries. In addition to concussions, broken bones, and other physical harm that may have occurred, being in a crash can cause symptoms of trauma long after.
The National Institutes of Health (NIH) warns that car accident-related post-traumatic stress order is common and can cause symptoms that take a heavy toll on both your physical and mental health. These include:
Sleep disturbances;
Disordered eating;
Weight loss or gain;
Chronic headaches and fatigue;
Increased anxiety and depression;
Increased fear and phobias.
Compensation For Post-Traumatic Stress After A Bradenton Car Accident
Post-traumatic stress can cause intrusive thoughts that interfere with your daily life. It can also cause generalized anxiety that makes you hesitant to make plans, attend social events, get behind the wheel of a car, or be a passenger in someone's vehicle.
When filing a car accident claim, you are entitled to compensation for economic losses you suffered, such as property damages, medical expenses, and lost wages. However, under the Florida Statutes, you may also be entitled to compensation for non-economic losses. This generally includes:
Pain and suffering caused by your accident or injuries;
Mental anguish, experienced at the scene and in the aftermath;
The professional, social, and emotional impacts of any scarring or disfigurement.
Lost enjoyment in life, in the event your injuries and/or post-traumatic stress prevent you from engaging in your usual hobbies and activities;
This compensation can help you in recovering from physical injuries and post-traumatic stress due to a car accident in Bradenton. It provides financial support and the time needed to get counseling and other services that can help you in making a more complete recovery.
Request A Consultation With Our Bradenton Car Accident Lawyer
Being involved in a car accident in Bradenton can take a heavy toll on your physical and emotional health. At the Law Office of Steven G. Lavely, we provide the professional legal representation you need to get the maximum amount in a claim. To discuss your options in seeking economic and non-economic compensation, call or contact us online and request a consultation with our Bradenton car accident lawyer today.
Sources:
flhsmv.gov/pdf/crashreports/crash_facts_2020.pdf
ncbi.nlm.nih.gov/pmc/articles/PMC2396820/#:~:text=For%20many%20individuals%2C%20the%20symptoms,e.g.%2C%20reluctance%20or%20refusal%20to
leg.state.fl.us/Statutes/index.cfm?App_mode=Display_Statute&URL=0700-0799/0766/Sections/0766.202.html#:~:text=(8)%20%E2%80%9CNoneconomic%20damages%E2%80%9D,losses%20to%20the%20extent%20the