One Of The Most Deadly Types Of Crashes, Wrong-Way Car Accidents Increasingly Common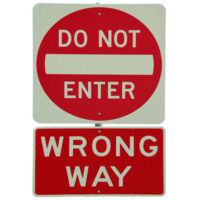 Car accidents in Bradenton can happen in a variety of ways. The type of crash you are involved in offers important clues on why and how it happened and can also influence the extent of personal injuries you suffer. Wrong-way crashes are one of the most severe and potentially deadly. Find out more about some of the underlying causes.
Bradenton Woman Injured In Wrong-Way Car Accident
A 62-year-old Bradenton woman was recently injured in a wrong-way car accident in Pinellas County. According to a December 19, 2021 news report by the Tampa Bay Times, the crash happened in the hours before dawn on Interstate 275. The woman was driving a van in the southbound lanes when she encountered a 33-year-old St. Petersburg woman in a sport utility vehicle driving north in her lane.
As is common in wrong-way car accidents, the two vehicles collided head-on. The support utility vehicle burst into flames, leaving the wrong-way driver suffering critical injuries. The Bradenton woman was also seriously injured and taken to a local hospital but is expected to make a full recovery. Police are continuing to investigate the crash and have not released any details regarding the causes. 
Factors That Make Wrong Way Crashes More Likely To Happen
According to studies by the American Automobile Association (AAA), wrong-way car accidents are increasingly common. They are currently responsible for the deaths of more than 500 drivers and passengers per year, which is up close to 35 percent over prior year figures. While common on divided highways and interstates, in which drivers may mistakenly access through the wrong ramps, they can also happen on rural, two-lane roads, as one motorist attempts to pass another.
The AAA claims that lack of proper road lighting, generally poor visibility, and lack of proper signage or other warnings can make these crashes more likely to happen. However, studies conducted through the National Transportation Safety Board (NTSB) reveal the most common causes include:
Driving under the influence of alcohol or drugs;
Drowsy driving and falling asleep behind the wheel;
Improper passing;
Distracted driving, such as talking on cell phones and texting.
The studies also indicate that drivers are more likely to go the wrong way when there is not a passenger in the vehicle to alert them to potential mistakes. Older adults are among those most at risk for going the wrong way, as vision, coordination, response times, and other important driving skills tend to decline as we get older.
Contact Us Today for Help 
If you are injured in a wrong-way car accident or any type of crash, the Law Office of Steven G. Lavely is here to help you get the compensation you are entitled to in a claim. Our Bradenton car accident attorney can determine the underlying cause and hold those at fault accountable. To request a consultation, call or contact our office online today.
Source:
tampabay.com/news/pinellas/2021/12/19/wrong-way-driver-critically-injured-in-fiery-pinellas-i-275-crash/