Lack of Crosswalks May Be to Blame for Pedestrian Accident that Killed Tourist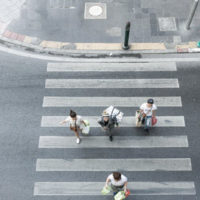 Bradenton police conducted investigations into a recent pedestrian accident that occurred in our area. It involved a couple visiting from Canada, and left one dead and the other with potentially life threatening injuries. While these types of accidents often involve reckless driving behaviors, such as speeding, driving under the influence, and texting or using cellphones, the accident investigation determined the driver in this case was not to blame. There is speculation that a lack of crosswalks is putting the public in danger, increasing the risk that pedestrians accidents will occur.
Pedestrian Accidents In Manatee County
According to Florida's Integrated Report Exchange System (FIRES), our state has one of the highest pedestrian accident rates in the country. More than 9,000 accidents between motorists and pedestrians occur annually, proving fatal for as many as 600 people and injuring thousands more. Approximately 150 of these accidents happen in Manatee County alone, resulting in an average of one pedestrian death each month. A January 2018 pedestrian accident in Holmes Beach claimed the first victim of the new year, and highlights the potential dangers locals and residents face.
The Islander reports that an older adult couple visiting from Canada were attempting to cross Gulf Drive north of Guava Street to get to a beach access point when an SUV struck them. The victims were taken to the hospital, where the wife later died of her injuries. The husband required surgery, but is listed as in stable condition. Bradenton police called the accident a 'tragedy' and said that the driver of the SUV, which occurred during daylight hours, was traveling with her seven-year-old son in the vehicle. She was not speeding and was in fact going under the speed limit, driving 30 miles per hour in a 35 mile per hour zone.
Lack of Crosswalks to Blame?
The Islander report states that the driver claims to have tried to stop at the last minute when she saw the couple attempting to cross and failed. A witness claims to have seen the 79-year-old man attempting to hurry his 80-year-old wife across the street prior to being struck. After accident reconstruction experts cleared the driver of blame, the Bradenton police say they do not anticipate filing any charges in the case. Residents in the area are concerned that with the number of people crossing Gulf Drive, crosswalks are needed to protect everyone's safety.
Let Us Assist You with Your Case
While local governments and municipalities may be accountable for situations which put people in the community in danger, it is still a driver's responsibility to maintain control of their vehicle at all times and to be on the lookout in areas where there are likely to be pedestrians. If you have suffered injuries as the result of these types of accidents, reach out and call or contact the Law Office of Steven G. Lavely online today. We can arrange a consultation with our Bradenton pedestrian accident attorney to discuss how we can help you get compensation.
Resources:
firesportal.com/Pages/Public/QuickStats.aspx
islander.org/2018/01/visitor-dies-from-gulf-drive-crash/