Intersection Crashes One of the Most Common-And Dangerous-Types of Car Accident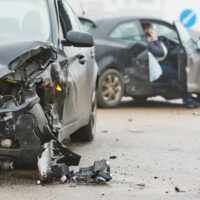 Car crashes in Bradenton can happen anywhere and for a variety of reasons. However, intersections are one of the places in which drivers face the biggest dangers. Collisions that occur in these locations tend to be severe, often resulting in serious and potentially life threatening injuries. After a recent intersection crash in Sarasota, it is important to be aware of common causes of intersection car accidents and how to reduce your risks.
Fatal Intersection Car Accident In Sarasota
A fatal intersection car accident near Bradenton claimed the life of an elderly driver recently. According to a September 25, 2020 news report by the Herald-Tribune, it happened at the corner of Clark and Lockwood Ridge Road in Sarasota County.
Florida Highway Patrol reports that a 53-year-old man was heading east in a Ford pickup truck at roughly 9:00 a.m. when he failed to stop for a red light. As he went through the intersection, he collided with a Honda sedan driven by a 93-year-old woman. The force of the impact caused her to crash into another motorist, a 23-year-old Bradenton woman driving a Toyota in an opposing lane. Both suffered injuries, the older driver's proving fatal. The pick-up truck driver, who was at-fault for the crash, ended up suffering only minor harm.
Unfortunately, intersection accidents are one of the most common types of crashes. Red lighting running is a frequent cause. Other dangerous driving behaviors that increase the risk include:
Speeding and going too fast for conditions;
Improper passing and failing to yield;
Driving distracted, such as using cell phones or texting;
Driving under the influence of alcohol, illegal drugs, or medications.
Protecting Yourself Against Intersection Crashes
In addition to being one of the most dangerous types of car accidents, the National Highway Traffic Safety Administration (NHTSA) reports that intersection crashes have the potential to be among the most severe. They often result in side-impact or 'T-bone' collisions, in which one driver slams directly into the driver or passenger side of the vehicle. When traveling at a high rate of speed, these crashes can end up being deadly.
While generally due to dangerous driving behaviors, a lack of traffic signals, poor lighting, vehicle malfunctions, and adverse weather can play a major role in intersection accidents as well. Ways you can help to reduce your risks include:
Pay close attention when approaching intersections;
Never assume other drivers will stop, even if you have the light;
Move through the intersection as quickly and safely as possible;
Avoid sitting in the middle when stuck in traffic jams or when making turns
Be particularly cautious at night and on weekends and holidays, which is when most intersection accidents tend to occur.
Contact Us Today for Help
When you suffer serious injuries as a result of an intersection accident, the Law Office of Steven G. Lavely provides the professional legal representation you need to get the compensation you deserve. Reach out and contact our Bradenton car accident attorney to request a consultation today.
Resource:
heraldtribune.com/story/news/accident/2020/09/25/fhp-fatal-crash-closes-lockwood-ridge-clark-sarasota-county/3530082001/
https://www.lavelylaw.com/car-accidents-involving-unlicensed-drivers/