Important Evidence In Bradenton Car Accident Claims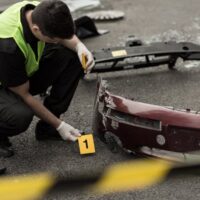 The reckless actions of other drivers can put you at risk on the road. Car accidents in Bradenton that occur as a result can leave you suffering personal injuries that impact you for months or years to come. To get the compensation you need to cover your medical costs, lost wages, and other expenses, our Bradenton car accident lawyer explains the different types of evidence that must be gathered in your case.
Gathering Evidence At The Scene For Your Car Accident Claim
Under the Florida Statutes, all drivers are required to stop at the scene of any car accident resulting in property damages or personal injuries. Once you have stopped, your first step should be to notify law enforcement officials so that an accident report can be filed.
A car accident report provides valuable evidence in filing a claim, as it details information about the crash. It should indicate the time and location where it happened, weather and road conditions, the drivers involved, and the damage to both vehicles. Request a copy of this report at the accident scene. Other important evidence to gather includes:
Names and contact information from any witnesses who may have seen the crash occur;
Photos or videos taken with your cellphone, showing the scene, your injuries, and your vehicle;
In-depth details about the crash site, such as the presence of stores or traffic signals which may have video surveillance footage;
Any additional details you notice, such as skid marks on the road or the smell of alcohol on the other driver.
Gathering Additional Evidence In Your Claim
Depending on the circumstances surrounding a car accident in Bradenton and the extent of injuries you suffer, you may have the right to file an insurance claim against the at-fault driver or a car accident lawsuit against them and others involved through the Manatee County Civil Court. Addition evidence that can prove vital in proving your claim and the amount of damages you are entitled to include:
Medical records: Seek medical care immediately after a car accident and get copies of all records regarding diagnostic testing and treatment.
Statements from medical providers: Be sure and get the names of all paramedics, emergency room doctors, nurses, and others involved in your care. You will also want a statement from your primary care provider, detailing the extent of your injuries and your prognosis for recovery.
Receipts: Keep receipts for hospital and doctor visits, as well as for medications, wheelchairs or other medical devices, and any other expenses.
Wage statements: These can help ensure you get compensation for lost wages and any future losses in earnings or benefits while you recover from your injuries. 
Request A Consultation With Our Bradenton Car Accident Lawyer
For help in gathering the evidence needed in support of your car accident claim, reach out to the Law Office of Steven G. Lavely. We are dedicated to helping you get the maximum amount of compensation in your case. To request a consultation, call or contact our Bradenton car accident lawyer online today.
Sources:
leg.state.fl.us/Statutes/index.cfm?App_mode=Display_Statute&URL=0300-0399/0316/Sections/0316.065.html#:~:text=(1)%20The%20driver%20of%20a,such%20crash%20occurs%20within%20a
manateeclerk.com/