How To Protect Yourself Against Drunk Driving Car Accidents Over The Thanksgiving Holiday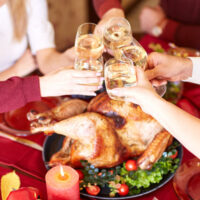 The COVID-19 pandemic continues to create concerns across the country and impacts many of our normal daily activities. However, while being mindful of general precautions, many of us still plan to gather with friends and family over Thanksgiving weekend. In making these arrangements, it is important to be aware of other common dangers. As drunk driving accidents in Bradenton tend to spike at this time of year, be aware of the risks and the steps needed to protect yourself.
Thanksgiving Drunk Driving Accidents: Know The Risks
While Thanksgiving is generally associated with food and festive gatherings with family or friends, alcohol often plays a major role at these events. Both in the days leading up to the holiday and immediately after, there is a general tendency to overindulge. In fact, the practice of going out the night before Thanksgiving is so well-known that it has earned itself the nicknames of "Blackout Wednesday' and 'Drinksgiving'.
The National Highway Traffic Safety Administration (NHTSA) warns drivers to be aware of the dangers and how even one or two drinks could affect your driving skills. Common impacts include:
Poor judgment, making it harder to notice impairments;
Poor vision, making it more difficult to see traffic signals and other motorists or pedestrians on the road;
Reduction in reaction times, making it harder to respond to sudden changes in traffic or other unexpected events;
Decreased coordination, making it more difficult to slam on the brakes or take other actions needed to prevent car accidents.
Reducing The Risks Of Drunk Driving Car Accidents In Bradenton
The Florida Department of Highway Safety and Motor Vehicles (FLHSMV) warns that the days immediately before and after Thanksgiving are among the most dangerous to be on the road in general. More than 10,000 car accidents occur throughout the state during the Thanksgiving period each year, claiming the lives of more than 100 people and leaving between 400-500 seriously injured. As alcohol is a frequent factor in these crashes, it is important for everyone to take steps to reduce the risks. These include:
If you are going out and plan on having any amount of drinks, make other plans to get home.
If you are hosting a Thanksgiving get together or pre-holiday party, be mindful not to over serve guests.
If you notice a friend or family member has had too much to drink, take their car keys and offer to either drive them home yourself or let them sleep on your couch.
If you are on the road and suspect another driver is under the influence, make note of their vehicle description and license number. Pull over at the first safe place and report it to local police or highway patrol.
Contact an Attorney Today for Help 
At the Law Office of Steven G. Lavely, we wish you and your family a safe and happy Thanksgiving holiday. When car accident injuries happen, we are here to help you get the compensation you need to recover. To request a consultation, call or contact our Bradenton car accident attorney online today.
Source:
nhtsa.gov/campaign/ditch-danksgiving#:~:text=Impaired%20Driving%3A%20A%20Deadly%20Danger%20at%20Thanksgiving&text=Don't%20make%20the%20reckless,influence%20of%20drugs%20or%20alcohol.&text=From%202013%20to%202017%2C%20more,deadliest%20holiday%20on%20our%20roadways.